UCConnect
Hybrid cloud building blocks
UCConnect is a cloud platform by estos. It offers companies that use the hybrid cloud and therefore run a mixture of their own hardware and cloud software components, a variety of building blocks. UCConnect includes modules for the hybrid cloud. The online services available via UCConnect simplify the installation of the app or the communication via the contact portal or multimedia business card. Companies that do not want to install this themselves or lack the necessary know-how will benefit from the offers UCConnect provides.
Advantages of our complementary online services
Facilitates the setup of estos software products
Reduces the need for adjustments to customer infrastructure
Enables commissioning without special IT know-how
Ensures permanent state-of-the-art security
Controlled availability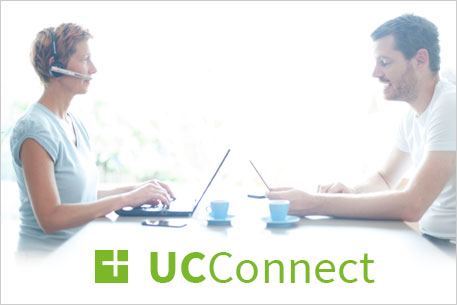 Discover our hybrid cloud building blocks
ProCall Web Communication Services
These services enable companies to provide modern customer communication via the website (contact portal/multimedia business card):
User profile on the website
Accessibility via the website
Audio/Video communication via the website
ProCall Mobility Services
These services help companies communicate and collaborate effectively when they are on the move:
Working on the move
Home office
Audio/Video communication
Free trial or productive operation
Free trial
Start directly from the software
Free of charge
45 days
25 users or L-package
Shortened registration at UCConnect portal
No contract
Productive operation
Activation key needed
Runtime contract (12 months)
Standard user scales or packages
Complete registration at UCConnect portal
No automatic extension of the runtime
Extension only possible with the latest product version
The protection of sensitive data is very important for the hybrid cloud building blocks. Therefore, all the servers used are located in the European Union, so there is no export of data. The legal framework regarding the protection of sensitive data already fullfils the requirements of the privacy regulations (EU-GDPR) and provides legal security. As personal data has been exchanged between the services, contract data processing agreements must be signed between the service-using company and estos. This is done when the services are activated.