UC and CTI solutions for Broadsoft
Building your bridge to the Cloud
estos and Broadsoft share a common vision: improving communication and collaboration in the workplace, through the innovation offered by digital transformation.
estos provides a wide range of UC and CTI solutions that perfectly fit the Broadsoft world
Professional CTI and TAPI middleware
The ECSTA series, i.e. estos professional TAPI driver, enables communication between the telephone system and the IT infrastructure. estos ECSTA for Broadsoft delivers a Telephony Service Provider (TSP) for Microsoft® Tapi 2.1 (also 2.2 and 3.0).
This Tapi driver establishes a central communication between a PC/Server and the telephone system, adopting Broadsoft OCI-C and OCI-P protocol.
For further information on supported features and system requirements, click here.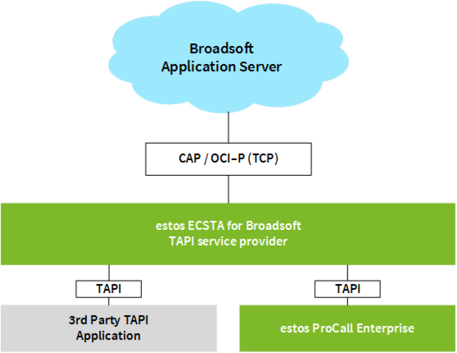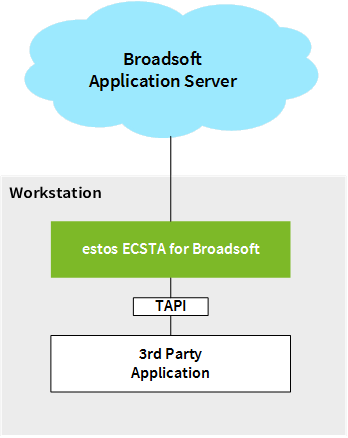 Workstation mode
ECSTA is installed on a single computer and directly connected to the Broadsoft platform providing native and standard TAPI to any local application.
Server mode
ECSTA is installed on a Server environment and can be configured to control multiple extension at once. Such configuration allows for a server-side 3rd party TAPI-compliant application to work server side.
More complex scenarios may still require TAPI on each workstation; combining ECSTA with estos UCServer TAPI Lines middleware allows for centralized single-workstation TAPI configuration, deploy and maintenance. It also supports virtualized desktop environments where TAPI, due to its computer-based configuration, would normally be impossible to set up.
Centralized configuration (with AD auth support)
Virtualized desktop (e.g. Citrix XenApp or MS Remote Desktop Services) support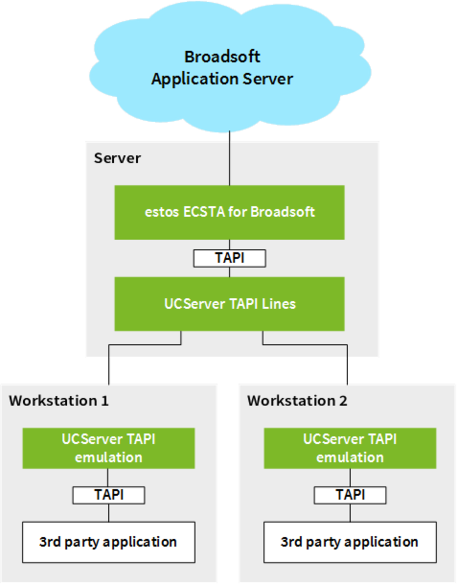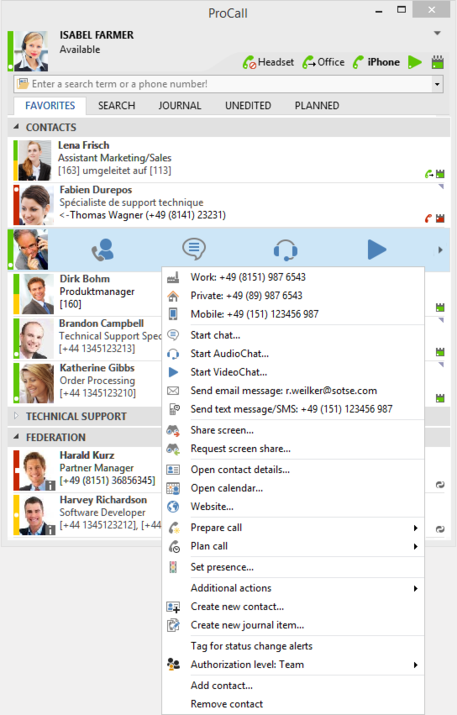 Flexible and Powerful UC solution
Our UC suite, ProCall Enterprise, i.e. a CEBP solution that can be easily applied through different business lines and several vertical industries to enhance your business process workflow and your customers' experience.
CTI, instant messaging, desktop sharing, click-to-dial are only some of ProCall Enterprise features that enable collaboration and networking in your workplace.
Supported functions
Dial
Hang up
Answer call
Hold call
Retrieve call
Redirect call
Blind transfer
Setup transfer
Complete transfer
Swap hold
Create conference
Add to conference
dial in dial tone mode
Forwarding
Do not disturb
Message waiting
Requirements
Use on a workstation:
After installation in Workstation Mode the configures telephone set can be used as Tapi line device. You may not start using a CTI Software.
Using in the network:
After installing the driver in server mode, you may use all configured line devices on the server as TAPI-lines. If you are using a server based CTI Software, you may install it now. To have the TAPI-devices available on all workstations, the TAPI-driver must be distributed in the network.
System requirements
Windows 7
Windows 8
Windows 8.1
Windows 10
Windows Server 2008
Windows Server 2008 R2
Windows Server 2012
Windows Server 2012 R2


Do you need more information? Do you want to know more about our solutions for Broadsoft?