Expand ProCall Enterprise Smartly
More features for the unified communications & CTI software suite
ProCall Meetings enables the planning and holding of online meetings and video conferences. ProCall Analytics evaluates and clearly displays the resulting communication data. ixi-UMS enables the additional use of fax, voice and SMS. The integration of MetaDirectory creates the basis for business process integration. Valuable information about the caller is displayed before the call begins and contact data available in the company can be found more easily.


Use the full potential of ProCall Enterprise
ProCall Enterprise is a unified communications standard software suite that simplifies communications and collaboration in a company. It includes features such as Computer Telephony Integration (CTI), presence management, chat, and audio/video communication, ensuring maximum flexibility for the workplace of the future. It can be used across devices and is platform independent. In addition, ProCall Enterprise can be combined with other software products, providing additional benefits for the company's day-to-day work.
NEW: ProCall Meetings – Online meetings and video conferences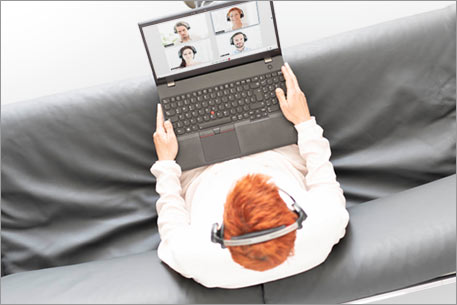 ProCall Meetings is an add-on to ProCall Enterprise and allows you to easily organize and hold online meetings and video conferences with up to 15 participants. You can work from anywhere: Participation is easy in the browser without any software downloads or plug-ins.
Bettina Fiur, Product Manager ProCall Meetings: "With presence integration in ProCall Enterprise, scheduled or ongoing online meetings flow into the presence management system and comprehensively map a contact's availability."
Presence integration in ProCall Enterprise: The corresponding status "busy" as well as the information "in meeting" is visible for colleagues and can be combined with call protection and busy-on-busy.

To the product page

ProCall Analytics – the analysis tool for ProCall Enterprise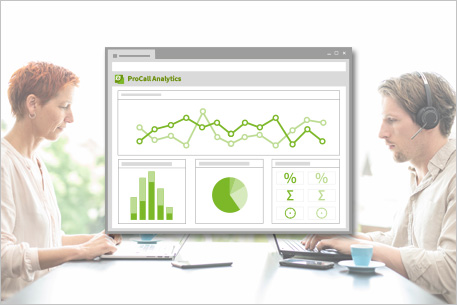 ProCall Analytics is an add-on module for ProCall Enterprise that evaluates communication data and presents it clearly. The software provides a quick overview of call volume and availability. The evaluations can be displayed in all common browsers and additionally exported, if necessary.
Joachim Frenzel, ProCall Analytics Product Manager: "Through these evaluations, we enable companies to identify weak points, optimize processes and thereby ensure long-term service quality."
Smooth integration with ProCall Enterprise minimizes configuration effort. All communication data is automatically processed and evaluated in real time.
MetaDirectory – LDAP server for easy access to contact information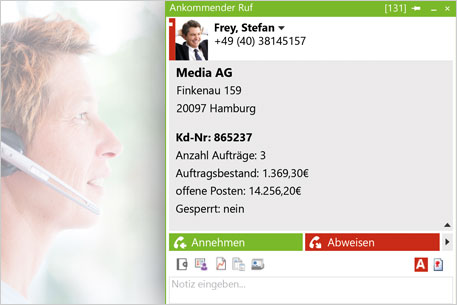 MetaDirectory merges a variety of distributed company contact data sources into a single, company-wide directory for a perfect overview.
Joachim Frenzel, MetaDirectory Product Manager: "With the help of MetaDirectory, we can interlock the business processes already automated in ERP, CRM and industry solutions. As a result, information such as the name, customer number and details of recent orders are already available when the call is received."
Through the connection of MetaDirectory to ProCall Enterprise, all caller information available to the company is displayed as soon as the call is received. In addition, employees can search for contact information in their ProCall client to find information faster.
ixi-UMS – Unified Messaging Software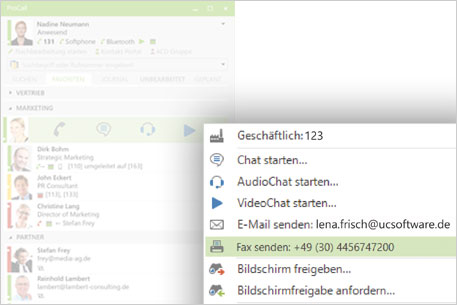 ixi-UMS is a unified messaging software where the services fax, voice and SMS can be managed under one interface – sending and receiving are carried out in your usual messaging client such as Microsoft Outlook or IBM Domino.
Bernd Kattner, ixi-UMS Product Manager: "ixi-UMS extends ProCall Enterprise's already large functionality with the channels fax, voice and SMS. The combination of these two products makes ProCall Enterprise and ixi-UMS a unified messaging and unified communications suite serving all major communication channels in the company."
The ixi-UMS unified messaging server integrates with the ProCall Enterprise solution: Users can send faxes directly from their client or monitor. The technical processing is handled by the unified messaging server ixi-UMS.
Expand ProCall Enterprise smartly
We are happy to advise you personally