LetsGoSeven – with ProCall 7 Enterprise:
Unified communications for the modern workplace
The next product version of the unified communications & CTI software suite ProCall Enterprise will make communication even easier. Optimized design, flexible access to presence profiles and easy content sharing support flexible working in the office, home office and mobile workplace.
#LetsGoSeven – one step to ProCall 7 Enterprise!
Our campaign #LetsGoSeven includes a software license, software assurance (SA) and mobility package all rolled into one. Order ProCall 6 Enterprise now and you and your customers will benefit from the following added values:
When purchasing ProCall 6 for the first time or upgrading from ProCall 5 Enterprise, we offer your customer a discounted SA contract for 12 months at attractive special conditions (15% off the price of the full licenses).
The SA offers the basis for switching to ProCall 7 Enterprise free of charge within 12 months of purchase.
In addition, your customer receives five free ProCall Mobility Services users via our UCConnect portal for 12 months.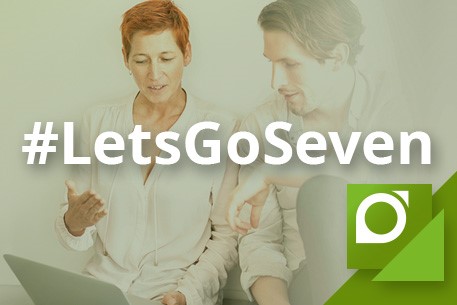 The promotion runs until 30th June 2020 and ProCall 7 Enterprise will be available mid-year. Use #LetsGoSeven now and enable your customers to migrate to ProCall 7 Enterprise in just one step.
Smart Working: Flexible collaboration with ProCall 7 Enterprise in the home office
Flexibility and independence – no matter your location! These are the foundations for "smart" cooperation. Well-functioning communication, short communication channels and regular exchanges between employees contribute significantly to a productive working environment. Presence management, text chat, audio/video chat and softphone guarantee optimal availability, quick responses and reliable information.
Sneak Preview – Learn more about ProCall 7 Enterprise in our webinars:
Optimized user interface in the client and mobile app
Individualized presence profiles to support modern forms of work – always and everywhere
Easy sharing of content (pictures, files, videos) via chat
and much more...
More information about ProCall 7 Enterprise, the special offer and the new estos products for 2020 is available in one of our free webinars: