Softphone Functions (SIP)
ProCall 6 Enterprise
With the integrated SIP compatible softphone, you can conduct VoIP phone conversations with external and internal participants at the Windows workstation and in the smartphone app, whether in the office or on the road.
Softphone Functions (SIP)
Each ProCall Enterprise workstation has two lines. Users can decide whether they want to make calls directly via the PC with a headset, in addition to the normal "classic" telephone. Basically, the following combinations can be selected: Two SIP lines, an SIP line and a classic telephone line, or two classic telephone lines (if they don't want the softphone functions), the choice is with the customer. A number of selected softphone functions have already been released on a variety of telephone systems.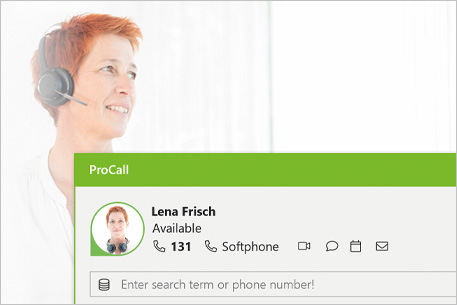 Supported Functions and Telephone Systems
The following functions are supported by ProCall 6 Enterprise, other functions are planned.
Call*
End/Close*
Reject*
Hold
Forward
Dial DTMF
Blind Transfer (Ringing and Connected)
Consultation Transfer
Conference Call (3 Participants)
Call Waiting Function with Toggle
Call Forwarding (via UCServer)
DND (Do Not Disturb)*
Busy-On-Busy
Comfort Features:
Jabra, Logitech, Plantronics, Sennheiser
* Scope of functions of ProCall 6 Mobile
Connection to the following telephone systems has been tested and approved by estos.
autphone aut-voice
Alcatel OXO connect
Alcatel OmniPCX Enterprise (OXE)
Auerswald (FONtevo) COMpact/COMmander
Avaya IP Office
bintec-elmeg
HFO Telecom Centrex Plattform
innovaphone
Mitel MiVoice 400
Mitel MX-ONE
Panasonic KX-NS(X) Serie
reventix virtual PBX
Unify OpenScape 4000
Unify OpenScape Business
Your phone system is not there?