ProCall Enterprise
Unlimited communication
Maximum flexibility for business process integration
ProCall Enterprise means company communication without compromise: It combines all important communication channels in one application, enables location and device-independent communication, and offers a wide range of expansion and integration options that allow you to fully embed your communication in your business processes. Unique in the market. The result: satisfied employees, excellent customer service, and high work quality and productivity.
Maximum flexibility. Maximum integration. Your benefits.

Presence synchronization with Microsoft Teams
Provision of customer data from ERP, CRM and industry systems in the call window
Integration of unified messaging services (fax, voice mailbox and SMS)
One-click switching in online meetings
Website contact portal for customers with text, audio and audio/video chat
Parallel connection of different telephone systems from various manufacturers (cloud or on-premise)
Using the ProCall client without a VPN connection
In the ProCall Enterprise variant, our application has a wide range of expansion and integration options that take your internal and external corporate communications to a new level.
With ProCall Enterprise you make your communication completely independent of work location and time and create the perfect basis for modern and flexible workplace & working time models.
The most important functions of ProCall Enterprise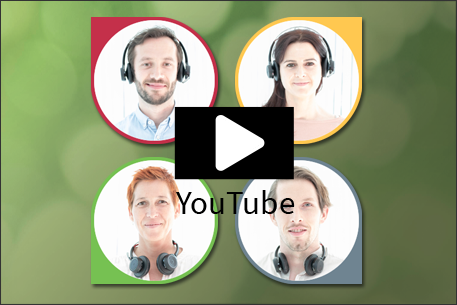 With ProCall Enterprise, you always have an overview of the availability of your ProCall contacts with the rotating "CAP" - even with poor color vision. Thanks to the integrated calendar and MS Teams synchronization, availabilities are set automatically. However, current status messages, such as breaks, can also be set directly in ProCall itself. This way you can always choose the most appropriate communication channel for a contact depending on the situation!
ProCall for Microsoft Windows
The possibilities with ProCall Enterprise are numerous. You create transparency and flexibility in your communication. Both internally with colleagues and externally with customers, suppliers and other stakeholders. Get an overview of the face and the user functions of the ProCall user client and learn how ProCall supports your business in a meaningful way.
ProCall App for iOS & Android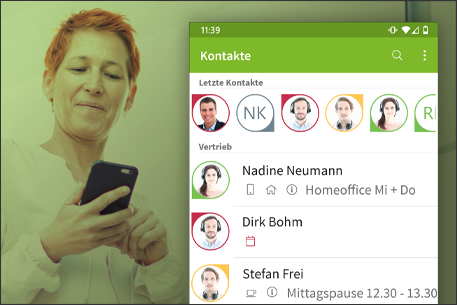 ProCall Mobile is a smartphone and tablet app for iPad, iPhone and Android. The app contains selected ProCall functions so that you always have access to your office phone number, your business contacts and all communication functions even when you are on the move. The ProCall Mobile App is available for download free of charge from the Apple App Store and the Google Play Store.
The most important integrations with ProCall Enterprise
Integration of customer data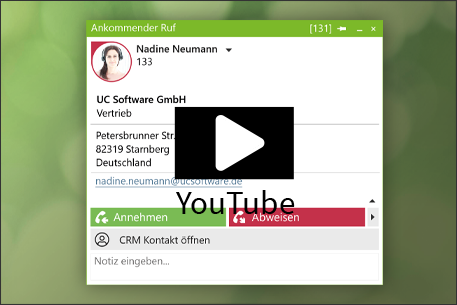 With ProCall Enterprise, you digitize your communication and integrate it into your business processes. For example, with the help of the MetaDirectory, several external systems such as ERP or CRM can be linked in parallel and customer data can be retrieved.
Microsoft Teams Integration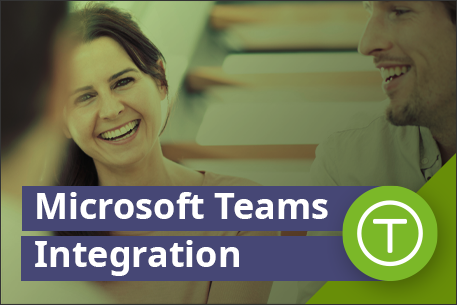 The integration of ProCall Enterprise in Microsoft Teams enables mutual reconciliation of presence and call status. This completely avoids mutual disruptions, such as calls during ongoing (online) meetings.
ProCall Meetings Integration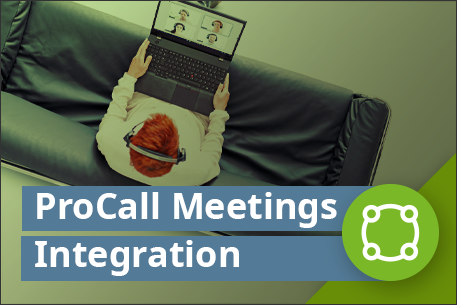 ProCall Meetings is fully integrated into ProCall Enterprise as an add-on. This means you can schedule an online meeting directly from ProCall Enterprise and send an invitation with a link to the online meeting or start an online meeting on an ad-hoc basis.
ProCall Enterprise – advanced, proven, secure.
In October 2022, we released the 8th generation of ProCall Enterprise. The first one dates back to 2000. For more than 22 years now, we have been continuously developing our unified communications software along the latest technologies and needs of our customers. We are experts in enterprise communications and drivers in the German ICT market.
For you as a customer, this means: With ProCall Enterprise, you receive a sophisticated software that is always state-of-the-art, is used by hundreds of thousands of users every day, and far exceeds all security-related requirements.
And: You can be sure, we are not a one-hit wonder and will continue to develop and expand ProCall Enterprise over the next 20 years!
Add-ons, specifically for ProCall Enterprise
Realize the full potential of ProCall Enterprise
Here you will find information material about the product and links to technical articles about e.g. setup and commissioning.
Learn more about the new version, how to use it and about upgrade and crossgrade procedures from other product versions. Feel free to contact me.