ProCall 6 Enterprise (Public Beta)
Unified Communications & CTI Software Suite
With ProCall Enterprise, companies are able to improve their communications and collaboration internally, as well as across company boundaries with partners, suppliers and customers. This makes employees' day-to-day work more e?icient and improves customer satisfaction. ProCall Enterprise can be platform-independent and device-spanning, and provides native clients for macOS, iOS and Android.
You can test ProCall 6 Enterprise here from the 1st of June 2017
ProCall Enterprise - All communication functions in one application
A company's communication, both internally and externally, is becoming increasingly diverse. As a Unified Communications & CTI software suite, ProCall Enterprise supports this diversity by combining all the important communication channels in a single application. In addition to proven CTI (Computer Telephony Integration), instant messaging, presence management and desktop sharing, ProCall Enterprise also provides audio/video (WebRTC-based) capabilities in the form of text, audio and audio/video chats. The optional integration of communication functions into the business processes of a company (business-process integration) as well as having the advantage of exchanging presence information with external partners (via Federation), make ProCall Enterprise a full-scale communication application which benefits both employees and customers.
The Most Important Functions of ProCall Enterprise
Simplified Work Steps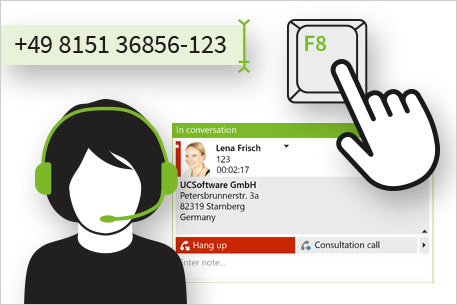 CTI functions (Computer Telephony Integration) saves employees the task of typing in telephone numbers manually. Potential errors are thereby minimized. Using the absence or presence register of colleagues, which is visible at all times, a communication method that is appropriate to the situation can always be selected. Audio/video chats allow face-to-face communication regardless of distance. With these and other options, ProCall Enterprise offers a wide range of communication opportunities without requiring the user to make a choice.
Contact Portal/Multimedia Business Card – Uncomplicated Customer Advice
With text and audio/video chats, companies can offer their customers personal, direct communication via the company's website. Be it as a contact portal, in which selected employees are made visible "externally" or by attaching a multimedia business card with audio/video chat option via an e-mail link. This allows website visitors to get uncomplicated advice before buying or to arrange a video consulting appointment without great effort.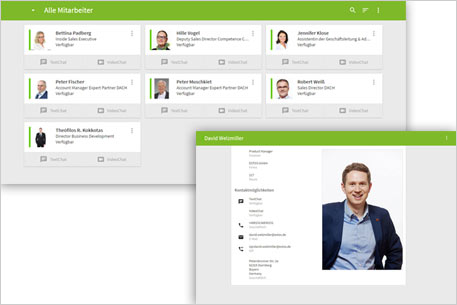 With Business Process Integration, Customer Service is Easy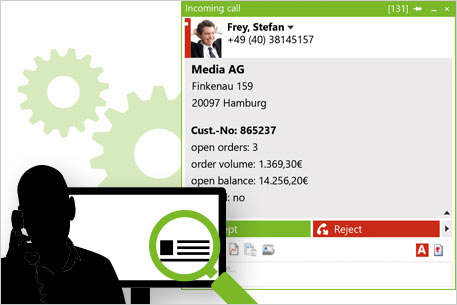 Business process integration is used to link the CRM and ERP programs and specific industry programs used by the company, as well as a communication software such as ProCall Enterprise. This creates a bridge between dialogue with the customer on one hand and automated business processes on the other. As soon as the call begins, the employee is shown all relevant caller information directly in the call window. This enables the employee to immediately greet the caller by name. Depending on the connected CRM or ERP program, additional possibilities exist which the employee can use during the call.
Networking beyond the Company's Boundaries
With Federation, companies are able to network with suppliers, partners and customers on the basis of open standards and secure protocols across company borders. In this way, presences can be quickly recognized and relevant information exchanged easily. The company can individually determine which data is allowed to be viewed. Sensitive data remains protected.
ProCall Enterprise - native Apps for iPad, iPhone and Android
ProCall Mobile is a native smartphone and tablet app for the iPad, iPhone and Android with selected unified communications (UC) and CTI functions. The latest version features a modern design and a thoroughly revised operating concept. At its heart is easy access to ProCall Mobile's tried-and-tested communications options.
As a result, the transition from fixed workstations with ProCall Enterprise on Windows PCs to the mobile application ProCall Mobile is even more fluid. The combined solution is primarily aimed at small and medium-sized enterprises who, as a result, can offer their staff efficient working and professional communication even while they are on the move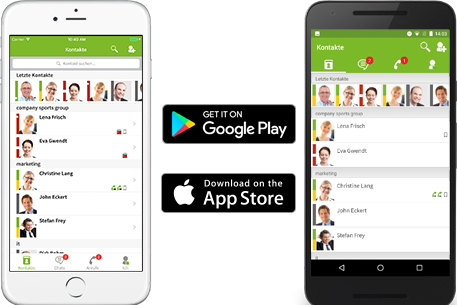 The key features at a glance:
Use the office telephone even while on the move
Rapid access to business contacts and all communications functions
View last contacts quickly at a glance
Chat for the fast and secure exchange of messages
Connection of popular CRM, ERP and industry software. Relevant information is permanently available, ensuring contact details are always up to date.
Communicate with a more personal touch: audio / video chat
Instant messaging and presence management, even for external business partners thanks to federation
Always be efficiently organized with a personal call journal
Cloud-ready - simple commissioning with UCConnect, the cloud platform of the future from estos
System requirements
Windows Server 2012R2/2016
Windows 7 Service Pack 1/8.1/10
iOS 10, Android 4.3-7.1
Office 2013 (x86/x64)/2016/365
Exchange 2013/2016
IBM Lotus Notes 8.5/Notes 9
SQL Server 2012/2014/2016
VMware ready (pending)
Citrix XenApp (pending)
Hardware requirements (50 users)
Server:
CPU: 4 cores @3GHz
RAM: 4GB
Hard disk space: 1GB
Network: 1Gbit
Client:
CPU: 2 cores @2GHz
RAM: 2GB
Hard disk space: 1GB
Network 100Mbit
For ProCall Enterprise you need a Windows TAPI driver for connecting your telephone system. The professional Windows TAPI middleware from the ECSTA series enables the integration of common CSTA-compliant telephone systems or telephones. See which telephone systems ECSTA middleware is available for.
You want to include contact databases for reverse searches? The MetaDirectory merges various contact data for ProCall Enterprise. It standardizes names, addresses, call numbers and customer-specific information and enables effective searches with customizable results.
You want to evaluate and optimize your communication behavior? ProCall Analytics graphically represents the communication data of ProCall Enterprise and allows the analysis of potentials and bottlenecks in communication-intensive processes. Take advantage of the information gained from it as the basis for decisions.
The unified messaging software ixi-UMS 6 Business is a simple complete solution tailored to the needs of smaller companies with up to 100 employees and combines all messages in one interface. Benefit from low installation and training costs, integration into existing IT architectures and administration made particularly easy.
ixi-UMS Enterprise is designed as a modular, unified messaging software for larger companies and projects and integrates the functions of fax, voice and SMS into system environments such as Microsoft Exchange or IBM Domino. In addition, ixi-UMS Enterprise also provides mobile access to all messages, such as e-mails.