ProCall Meetings integration in ProCall Enterprise
Integrated seamlessly – available directly
The communication of a company, internally as well as externally, is becoming more and more diverse. As an add-on to the unified communications & CTI software suite ProCall 7 Enterprise, ProCall Meetings enables its users to easily organize and hold online meetings and video conferences.
The integration is available with the service release 4 of ProCall 7 Enterprise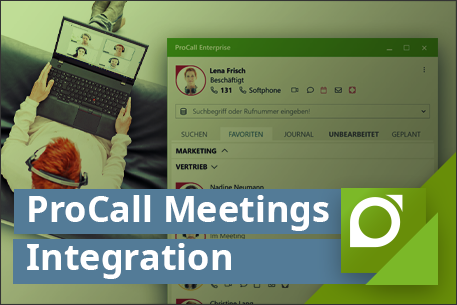 Perfect integration
By integrating ProCall Meetings into the ProCall client for Windows, you can use ProCall Meetings functions such as starting, scheduling and inviting participants directly in the client for Windows without having to switch to the ProCall Meetings platform. You can easily send meeting invitations and links to a meeting via chat or e-mail.
ProCall Meetings extends ProCall Enterprise with easy online meetings and video conferencing. Participation is simple with no software download or plug-in required.

Show your presence
Through ProCall Enterprise integration, scheduled or ongoing online meetings are included in presence management: The corresponding status "Available" or "Busy" as well as the information "In meeting" is visible for colleagues and can be combined with "Do not disturb" and "Busy-on-busy".

My meeting
In the "My" area of the ProCall Enterprise client, all available communication channels and the video conferencing platform ProCall Meetings are displayed in addition to the user's own presence with a note and the name.

Contact card
Contact-specific actions can be performed in the action bar of a monitor or favorite contact via the ProCall Meetings icon. The color of the icon changes to red if the contact is currently participating in ProCall Meetings.

Directly available
Right-clicking on a contact (favorites, monitor, call window, etc.) opens a context menu offering various options matching the available contact information.
For any further questions I am at your disposal