Softphone functions (SIP)
Each ProCall Enterprise workstation has two lines. Users can decide whether they want to make calls directly via the PC with a headset, in addition to the normal "classic" telephone. Basically, the following combinations can be selected: Two SIP lines, an SIP line and a classic telephone line, or two classic telephone lines (if they don't want the softphone functions), the choice is with the customer. A number of selected softphone functions have already been released on a variety of telephone systems.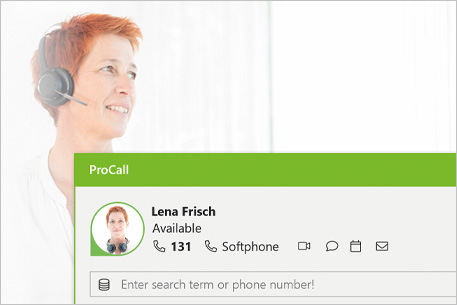 Softphone Functions (SIP)
ProCall Enterprise
With the integrated SIP compatible softphone, you can conduct VoIP phone conversations with external and internal participants at the Windows workstation and in the smartphone app, whether in the office or on the road.
In projects with many phone extensions that are to be equipped with the ProCall Enterprise Softphone, the technical limits of scaling have so far been quickly reached. Changes to the UCServer and Media Server have significantly raised these limits and improved reliability.
With ProCall Enterprise, the media server can optionally be outsourced to a separate runtime environment to enable scaling of the UCServer. In addition, it is now possible to operate the UCServer with several media servers and thus achieve automatic load distribution of incoming and outgoing softphone calls using the round-robin method. Should one of the connected media servers fail, this is automatically detected and a failover to the remaining media servers is performed for new calls.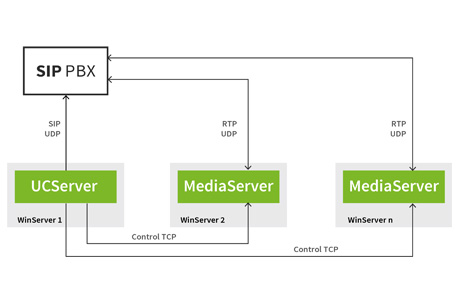 Supported functions and telephone systems
The following functions are supported by ProCall 7 Enterprise, other functions are planned.
Call*
End/Close*
Reject*
Hold
Forward
Dial DTMF
Blind Transfer (Ringing and Connected)
Consultation Transfer
Conference Call (3 Participants)
Call Waiting Function with Toggle
Call Forwarding (via UCServer)
DND (Do Not Disturb)*
Busy-On-Busy
Comfort Features:
Jabra, Logitech, Plantronics, Sennheiser
* Scope of functions of ProCall 7 Mobile
Connection to the following telephone systems has been tested and approved by estos.
Alcatel OXO Connect
Alcatel OmniPCX Enterprise (OXE)
Auerswald (FONtevo) COMpact/COMmander
autphone aut-voice
Avaya IP Office
Asterisk
bintec-elmeg
bis. cloud
Firstcom Europe AG Universe Cloud Connect
innovaphone
Mitel MiVoice 400
Mitel MX-ONE
Ostertag DeTeWe - OD Cloud
Panasonic KX-NS(X) Serie
Placetel PROFI vPBX
reventix virtual PBX
Starface PBX´n (Appliance, Cloud und VM)
Unify OpenScape 4000
Unify OpenScape Business
Your phone system is not there?