TOP 100 Innovator 2022
Agile to the goal – that's what sets estos apart!
TOP 100 is the only competition in Germany that evaluates the innovation management and innovation successes of companies. For 29 years, the innovation champions of medium-sized companies have been awarded the TOP 100 seal.
estos is one of the TOP 100 Innovators 2022 in Germany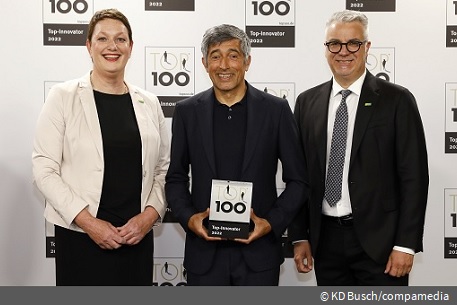 "Agile working is our top priority," emphasizes Christoph Lösch, Managing Director Innovation and Technology at estos GmbH
"The focus is on the customer. We constantly exchange ideas with them and our partners in order to respond flexibly to the dynamically changing needs of the market. The involvement of our sales department plays a central role in this," he adds.
Agile organization and working methods in interdisciplinary teams ensure that requirements are quickly incorporated into current developments. "Simple communication despite complex digital transformation, that's the goal," he concludes.
The core of the TOP 100 innovation competition is a scientific selection process that participants undergo: Innovation-promoting top management, innovation climate, innovative processes and organization, external orientation/open innovation and innovation success. In principle, the analysis is concerned with the question of whether a company's innovations are just a product of chance or are systematically planned and thus repeatable in the future.
Particular emphasis is placed on the question of whether and how innovations and product improvements will succeed in the market.
Since 1993, compamedia has been awarding the TOP 100 seal for special innovative strength and superior innovation success to medium-sized companies. Scientific management has been in the hands of Prof. Dr. Nikolaus Franke since 2002. Franke is the founder and director of the Institute for Entrepreneurship and Innovation at the Vienna University of Economics and Business. The mentor of TOP 100 is the science journalist Ranga Yogeshwar. Project partners are the Fraunhofer Society for the Promotion of Applied Research and the BVMW. As media partners, manager magazin and impulse support the company comparison.

More info under www.top100.de.