Make your workplace flexible
ProCall simplifies your individual communication
While telephone and fax shaped entire generations, digitization has given rise to completely new communication options. Keep an overview and stay available: ProCall combines all communication channels in one application. The intuitive, simple operation made it easy to communicate with colleagues and customers – in the office as well as at home.
How to communicate easily and flexibly
Make calls without a phone: Whether in the office or at home with the integrated softphone, you can make calls directly from your PC.
Save time: No more tedious typing of phone numbers thanks to convenient CTI functions.
Keep an overview: With the client you manage incoming and outgoing phone calls, new e-mails as well as text and audio/video chats and start your communication with just a few clicks. You have the possibility to group the contacts according to your individual needs.
Easily share with your colleagues: Share your screen and collaborate on documents.
Never miss a call: The journal contains all communication data, you can see who tried to reach you and start a callback directly.
More transparency with Outlook integration: With an integration of Outlook in ProCall Enterprise you get information about the availability of your colleagues. Your Outlook appointments are synchronized by the presence display of ProCall Enterprise. Your Outlook contacts flow into the contact search.
The client: The linchpin of communication
My area is the upper area of the client. There I can make settings for my availability and communication:
Set the presence manually
Create presence profiles
Note under the name visible to all colleagues
Configuration of communication channels, such as setting call forwarding
If a contact portal is connected, I can log in there
In the search line I can search in all connected data sources or directly enter and dial a phone number.
The results are presented to me in the SEARCH tab.
In the FAVORITES tab I can organize my contacts.
Add or remove contacts to favorites
Organization of contacts in groups
Global provisioning of groups via the administrator
In the JOURNAL tab, I have an overview of the communications I have made. UNWORKED lists my missed communication and under PLANNED I can plan tasks for the future for myself, but also for my colleagues (depending on the group policy).
I get the new tab CHAT from version 8. There I have summarized all my chats.
Chat, up-to-date communication
Quick navigation between contacts
All shared documents in the media overview
All groups in view with the "Common groups" display
Sound and pop-up for new incoming messages
Tag people within a group with @ and notify them
Export and save text messages
Well-known functions like forwarding, replying or deleting and sharing documents, videos and pictures are of course also part of it.
Communicate flexibly on the move
Native app for Android and iOS
Important data on business contacts and information on the availability of colleagues allow you to communicate flexibly at any time while on the move.
All the listed options are available in the ProCall mobile app for Android and iOS.
A simple connection of the app becomes possible with ProCall Mobility Services.
ProCall – something for everyone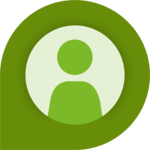 Presence management, which is a central component of the ProCall unified communications & CTI software suite, enables users to communicate flexibly. Depending on the availability, you always choose the most suitable communication channel from a variety of options
As different as the companies are, so are the application scenarios for ProCall. But the one thing that applies to all of them is that communication must run smoothly, both internally and externally.
Expand your communication channels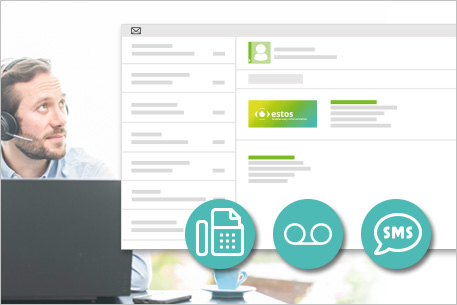 UMS integration
estos offers you the possibilities to expand your communication:
Send and receive faxes - directly via the PC: With ixi-UMS, the fax, voice and SMS functions are also available to you – even when mobile!
Add-ons, especially for ProCall Enterprise
Realize the full potential of ProCall
Learn even more about software from estos, the possible uses and combinations, and about upgrade and crossgrade procedures from other product versions. Feel free to contact me.