ProCall App for Microsoft Teams
Telephony integrated directly
Use the telephony features of ProCall Enterprise directly in Microsoft Teams: Based on the central address book, the ProCall app offers audio/video chat and presence management seamlessly integrated into the Microsoft Teams world.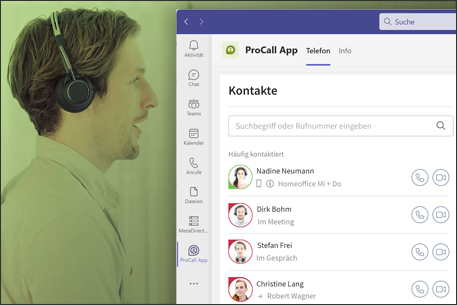 Are you using ProCall Enterprise version 8 with the ProCall Windows client? Perfect:
You automatically have ProCall App for Microsoft Teams already!
You can easily use your familiar ProCall telephony features in Microsoft Teams.
You have the possibility to connect and integrate mobile workstations even without a VPN.
We ensure that the ProCall App for Microsoft Teams is always compatible with the latest Microsoft Windows version.
With ProCall Enterprise you make your communication completely independent of work location and time and create the perfect basis for modern and flexible workplace & working time models. The hybrid workplace demands flexible solutions to enable uncomplicated exchange. The interaction of ProCall Enterprise and Microsoft Teams is one of them.
ProCall telephony in MS Teams
This feature allows you to initiate calls directly from MS Teams without the need for an additional SBC or a costly Microsoft telephony license.
Flexible setting options
Make line settings such as call forwarding, remote office, and call protection directly in your MS Teams client.
Easy contact data search
Thanks to this feature, contacts and information can be found quickly and easily via the data sources/MetaDirectory connected in the UCServer.
Clear call log
Keep track of all ProCall calls made, audio and video chats directly in Microsoft Teams.
Further information

Get important call and contact information, including contact details, call notes, and availabilities.
Presence management
Presence integration with Microsoft Teams enables bidirectional presence synchronization between ProCall and Microsoft Teams.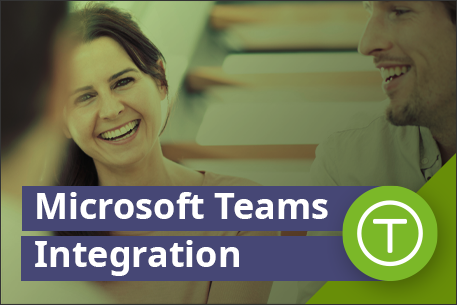 Presence integration in MS Teams
The integration of ProCall Enterprise with Microsoft Teams enables bidirectional matching of presence and call status. This allows you to quickly and easily check the availability of colleagues and customers and completely avoid mutual disruptions, such as calls during meetings that are taking place.
Microsoft Teams is a trademark of the Microsoft group of companies.
Here you will find information material about the product and links to technical articles about e.g. setup and commissioning.
Learn even more about ProCall Enterprise, the possible uses and combinations, and about upgrade and crossgrade procedures from other product versions. Feel free to contact me.