New Work – the end of the office workplace?
Software from estos enables flexible workplace models
Work 4.0 presents itself as a digital, flexible workplace with working time models that combine the needs of employees and the requirements of companies. Being present without actually being on location – modern technologies enable unprecedented transparency about the availability of employees.
New Work – a flexible choice of workplace
Show presence!
Despite the advantages offered by remote working, the office is an important anchor point for employees and customers. As such, it will continue to play a role in flexible workplace choices. Presence management is an integral part of the ProCall CTI software suite and enables a visual representation of your availability.
Availability at a glance: The presence status of your contact card shows your colleagues whether you are currently available. Different colors (green, red, yellow, gray) indicate whether you are present, busy, absent, or not logged in. If you are on the phone or using ProCall Meetings, your presence automatically changes to "Busy".
Contact with one click: In addition to your current presence status, the contact card offers the option of direct contact by phone, text and audio/video chat, or e-mail.

Busy in a meeting: Through the integration in ProCall Enterprise, planned or ongoing online meetings flow into the presence management: The status "busy" as well as the information "in a meeting" are visible for colleagues and can be combined with call protection.
Simply add additional information: In your presence profile you have the possibility to add additional information which could be relevant for your colleagues (e.g. "On the way to a customer appointment").
Create individual presence profiles yourself: Presence profiles such as remote working, vacation, business trip or break can be selected directly. This allows you to activate your predefined presence states, relevant additional information or call detour with a single click.
More transparency with Outlook integration: With an integration of Outlook in ProCall, your appointments are synchronized, the presence automatically switches to "Busy" as soon as your appointment starts. Depending on the configuration, colleagues can also recognize your follow-up appointments and thus know when you are available again.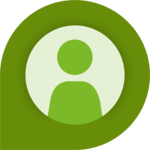 Presence management, which is a central component of the ProCall unified communications & CTI software suite, enables users to communicate efficiently. Depending on the level of availability, you can always choose the most suitable communication channel from a wide range of options.
As different as each company is, so too are the scenarios in which ProCall is used. But the one thing that applies to all of them is that communication must run smoothly, both internally and externally.
How to stay present for your customers and business partners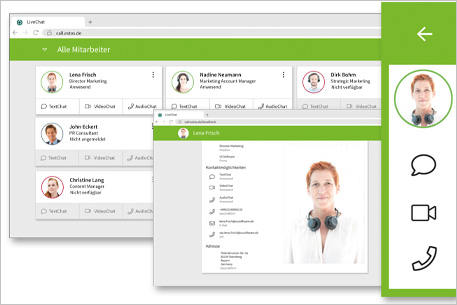 LiveChat
Offer your customers and business partners more than just an e-mail address to contact you! Via the widget, the contact portal or your personal, multimedia business card, your customers and business partners can also see outside the company whether you are currently available. The browser-based application makes direct contact via text or audio/video chat easy.
Interactive contact via the company website
The contact portal is integrated into your company website and displays employees selected by you and their presence. The website visitor contacts their contact person directly by clicking on the desired communication medium of their choice.
Personally available for your contacts
The multimedia business card can be integrated as a URL in your signature and offers your contact person, in addition to your current presence status, the options of direct contact via text or audio/video chat as well as the classic communication channels such as telephone and fax numbers and your postal address.
Add-ons, specifically for ProCall Enterprise
Realize the full potential of ProCall Enterprise
Learn more about the new version, how to use it and about upgrade and crossgrade procedures from other product versions. Feel free to contact me.