New Normal – how does remote collaboration work?
Software from estos supports collaboration
Innovative technologies can connect your team – no matter where they are located. Telephony alone is not enough to enable productive dialog among multiple people simultaneously. To meet the requirements of the modern working world, collaboration without barriers is necessary.
This makes remote collaboration easy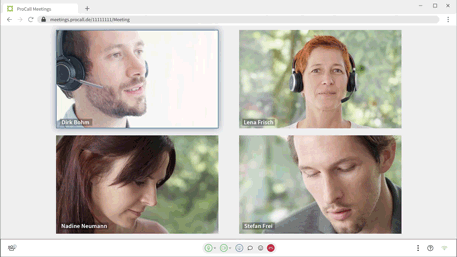 Conduct meetings flexibly and securely
A company's communication, both internal and external, is becoming increasingly diverse. As an add-on to the unified communications & CTI software suite ProCall Enterprise, ProCall Meetings enables its users to easily organize and hold online meetings and video conferences. Participation is very simple in the browser without any software download or plug-in.
The number of virtual meetings has skyrocketed since 2020. Not all cloud services in use meet the high security standards required for the exchange of sensitive company information. The cloud service ProCall Meetings extends ProCall Enterprise with a simple meeting platform.
Exchange in a large group: Meet up to 15 participants online.
No download, no plug-ins: ProCall Meetings is browser-based, your participants receive the access link from you and join the meeting without any further installations.
Create meetings easily: Use your dashboard to create a new meeting room in seconds.
Work on projects together: Each participant has the opportunity to share their screen and present their contribution.
Interactive exchange: With the text chat, information can be easily exchanged with all participants.
Feedback without words: Use emojis to create a relaxed atmosphere and give feedback to the other participants without interrupting the speaker.
GDPR compliant collaboration: All servers used are hosted in the European Union.
Status – In meeting: Presence integration in ProCall Enterprise provides colleagues with information about availability.
Collaboration: Proven and easy
Team communication with ProCall
ProCall not only simplifies your individual communication. Team communication is also supported by additional features.
Full information capability in case of substitution: In the group journal, the relevant employees can access an overview of the last communication processes. If relevant information about the conversation is entered in the notes field, they immediately know what was discussed.
Easy exchange in the group chat: Create a group chat with the colleagues of your choice, for example for an ongoing project. Within the chat, you exchange current information flexibly and quickly and share content via file transfer.
Small group voting: For a quick exchange, a conference call of up to three participants is easily possible.
Add-ons, specifically for ProCall Enterprise
Realize the full potential of ProCall Enterprise
Learn more about the new version, how to use it and about upgrade and crossgrade procedures from other product versions. Feel free to contact me.