Softphone from estos and STARFACE telephone systems
Digital workplace for business communication
The STARFACE IP PBXs for companies and the ProCall 7 Enterprise softphone from estos simplify location-independent interaction between colleagues and with external business contacts.
STARFACE telephone systems and softphone functions
STARFACE has three variants of telephone systems in its portfolio: A hardware appliance, a cloud PBX and a VM edition.
Regardless of which STARFACE system is in use, the SIP-based softphone functions integrated in ProCall 7 Enterprise can be used without restrictions.
ProCall Enterprise softphone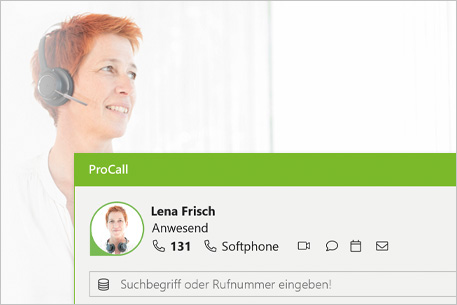 The integrated SIP compatible softphone allows employees to make calls directly from their PC. Uncomplicated and secure even when on the move.
For example, you can start and end, reject, hold or forward calls using a headset and laptop. Convenience functions such as call waiting with toggling, Do not Disturb or Busy on Busy are also available.
The STARFACE IP telephone systems
Uncomplicated business communication from any workstation and end device: STARFACE IP PBXs for companies are optionally available as pre-installed hardware appliances, fail-safe PBXs from the cloud or as VM editions for self-hosting. In addition, STARFACE telephone systems offer a suitable solution for secure business communication for all industries and every size of company.
Appliance: The physical telephone systems are installed locally in the company and are designed for 3 to 3,000 users.
Cloud: GDPR compliant, hosted on German servers and designed for an unlimited number of users, this is what distinguishes the cloud telephone system.
VM Edition: The VM (virtual machine) is suitable for anyone who would like to host and administer their own IP telephone system.
About STARFACE GmbH
STARFACE GmbH is a rapidly growing technology company based in Karlsruhe, Germany. Founded in 2005, the manufacturer of IP telephone systems and communication solutions is regarded as an innovative ICT trendsetter. The focus of the product portfolio are the IP-based STARFACE telephone systems, which are optionally available as a cloud service, hardware appliance and virtual VM edition, and can be used by companies of all sizes. The multiple award-winning telephone system is sold exclusively through qualified partners.

STARFACE is developed and produced in Germany and enables the integration of Windows and Mac computers as well as iOS and Android-based mobile phones into the communication structure of companies via open interfaces. As an open, future-proof UCC platform, STARFACE can be linked to numerous CRM and ERP systems and supports common technologies and standards such as analog network, ISDN, NGN and Voice-over-IP.