Softphone Functions (SIP)
ProCall Enterprise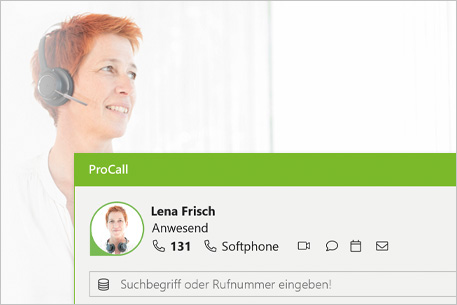 With the integrated SIP-compatible softphone, you can make VoIP phone calls on the Windows workstation and in the smartphone app. Each ProCall Enterprise workstation has two lines. Users can decide whether they want to make calls directly via the PC with a headset in addition to the classic desk phone. In principle, a choice can be made between the following combinations:
Two classic telephone lines
Two SIP lines
One SIP line and one classic telephone line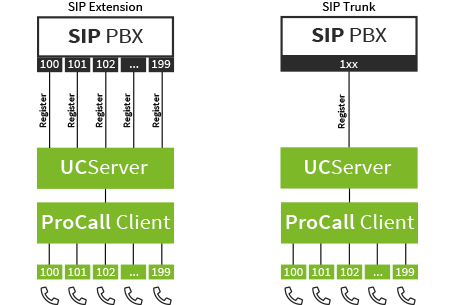 SIP extension connection (SIP subscriber registration)
During SIP subscriber registration, a SIP extension is set up in the telephone system for each line of the UCServer.
NEW: SIP trunk connection
With the SIP trunk connection, the UCServer registers with a so-called trunk in the telephone system. This normally represents an area that is no longer managed by the telephone system, but in this case by the UCServer.
More information: ProCall 8 Enterprise – softphone functionality
Supported telephone systems
On Premises PBX
Alcatel OXO Connect
Alcatel OmniPCX Enterprise (OXE)
Auerswald (FONtevo) COMpact/COMmande
Avaya IP Office
Asterisk
Innovaphone
Mitel MiVoice 400
Mitel MX-ONE
Panasonic KX-NS(X) series
Starface Telefonanlagen (Appliance/VM Edition)
Unify OpenScape 4000
Unify OpenScape Business
Cloud PBX
autphone aut-voice
Asterisk
bis. cloud
Firstcom Europe AG Universe Cloud Connect
HFO Crown Centrex
Ostertag DeTeWe – OD Cloud
Placetel PROFI vPBX
reventix virtual PBX
Starface telephone systems (cloud)
Your telephone system is not included?