MetaDirectory
Search easily, find quickly. Company-wide.
The MetaDirectory is a LDAP server for quick access to contact data. It merges different databases into a single, consistent LDAP directory that can be used across the company. As a result, relevant data, such as telephone numbers and other contact details, are available to all employees. The intelligent data processing allows for easy searching and the fast presentation of results - even with large databases.
The Original
Regardless of whether Microsoft Dynamics CRM/NAV/AX/CRM Online, SAP CRM/R3/Business One, Salesforce, Office365, DATEV pro or many more ERP, CRM, industry and groupware solutions, with the MetaDirectory you can simply and quickly merge all contact data sources used by your company into a central directory .

This company-critical information is automatically standardized and, thanks to the comprehensive rules, all call numbers are normalized to ensure a high-performance search, even with large databases.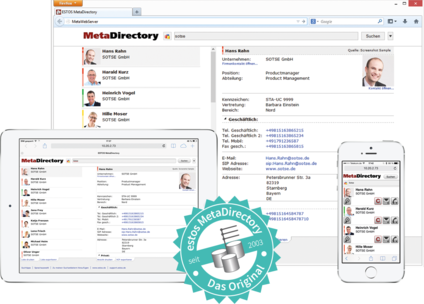 Functions of MetaDirectory
Interfaces (technical)
ODBC (Access, SQL Server, MySQL, ...)
LDAP (OpenLDAP, NDS, Public Directories)
Active Directory / Global Catalog
Public Exchange directories (MAPI)
Exchange Web Service (EWS)
IBM Notes
Tobit David
DATEV SDD
Microsoft Dynamics CRM Web Service
Salesforce SOAP Web Service (beta)
Text/CSV File
Applications
Microsoft Dynamics CRM, Navision, AX
Microsoft Dynamics CRM Online
Microsoft Exchange / Office365
SAP CRM, R3, Business One
Salesforce CRM (beta)
Sugar CRM
Cobra CRM PRO/PLUS, adress PLUS
DATEV pro
Sage ACT!, CRM
Schleupen.CS
and many more...
Telephone Directory Integration
CD / DVD / Network installation / Cloud Services
As a result of the additional connection of external telephone directory providers such 'Das Telefonbuch', Herold, TwixTel, Swisscom Directories or the klickTel server, the contact data of these network installations or WebServices can also be directly accessed.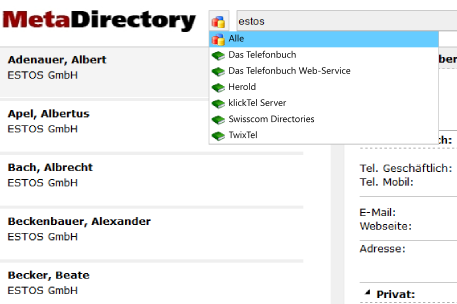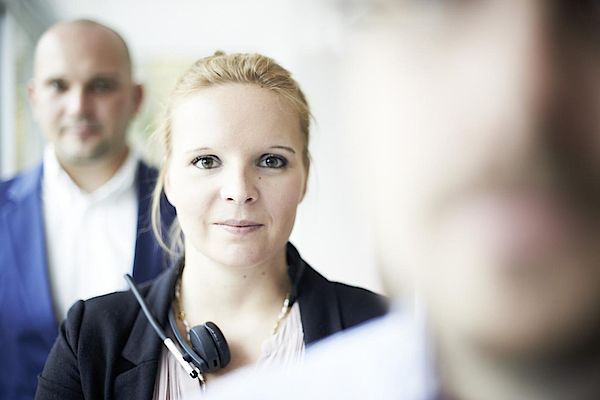 Comparison of versions
The MetaDirectory is available in three versions: Standard, Professional and Enterprise.
See for yourself which functions the respective versions offer you.
PC-Server – Hardware
PC with 1 GHz
1 GB RAM
1 GB free hard disk space
PC-Server – Software
Windows 8.1, Windows 10 or Windows Server 2008 R2 / 2012 / 2012 R2
Supports 32- and 64 Bit Microsoft Windows systems
Licenses for MetaDirectory 3.5
Information material
Technical documentation
Try the MetaDirectory
The MetaDirectory organizes and presents your data: regardless of the format. Try our software now for 45 days for free and without registration. If you like our software, you can easily order a license key from your technology partner or online and then activate the software for further use.
ProCall Enterprise is the Unified Communications Collaboration and CTI software for small and medium-sized businesses. With ProCall Enterprise, you can improve the communication and daily work processes in your company. Functions such as presence management, Instant Messaging and audio/video communication support you in the process.
The modules of the ECSTA family as middleware connect the proprietary world of known telephone systems with the Microsoft Windows world. Technically, this is done with a conversion of the CSTA protocol, which is provided via an interface of the system, into the industry-standard Microsoft TAPI, which is supported by nearly all leading application vendors.
Quickly and easily determine potentials and bottlenecks in communication-intensive processes. Use ProCall Analytics as the basis for investment, further education and training.