Work 4.0 – more flexibility, less customer service?
Software from estos supports superior customer service
The exchange between people is the basis of all business processes. Communicating with each other is both a need and a necessity. Especially in a time of complex digital transformation, communication must be simple. Customer service begins when the "human factor" comes to the fore and uncomplicated exchange becomes possible.
Personal customer approach through smart contact management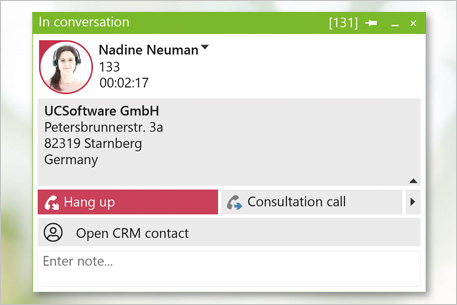 From data to information
Contact information is the basis for a personal approach, so why not use it efficiently? With MetaDirectory, you connect your contact databases to ProCall and receive valuable information about the caller in the so-called call window when it first rings.
Names instead of numbers: Contact data integration displays the name of the person you are talking to instead of the phone number when a call is received. Your personal greeting sets the tone and creates a trusting framework for your customer conversation.
Quick switch to your database: Need more information during the call? With an integration of your database, you can quickly switch from the call window directly to your ERP or CRM system with just one click.
Proactive action instead of long inquiries: Complex integration of your customer database provides you with detailed information on the caller on every call. For example, customer numbers, license plate numbers, or open orders are visible at a glance.
Read a comprehensive article on the topic of planning and realizing business process integration/system integration in connection with estos products in the Support Portal. Read the article here
Provide good customer service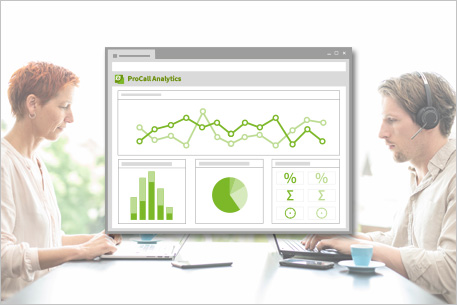 The analysis tool
In order to guarantee short waiting times, it is necessary to recognize possible peak times and to plan staff deployment accordingly. To make this possible, estos offers ProCall Analytics, an additional module.
Quickly identify bottlenecks: All communication data is displayed in clear dashboards.
Easy reporting: Export as PDF, CSV, XML or HTML files are possible. The reports can be further processed, e.g. for a management summary.
Data protection compliant: Personal data is protected at all times thanks to an extensive authorization system.
Record, evaluate, adjust: Optimization of processes is only possible if meaningful measured variables are available as a basis.
Add-ons, specifically for ProCall Enterprise
Realize the full potential of ProCall Enterprise
Learn more about the new version, how to use it and about upgrade and crossgrade procedures from other product versions. Feel free to contact me.