A career at estos? Anything is possible!
If you bring along professionalism and passion and are adaptable and proactive, then you have already cleared the first hurdle. Apply for a job at a future-oriented, international software company!

We look forward to receiving your application!
What sets us apart!
The ITC industry in which we operate as a software vendor is very dynamic and changes rapidly. We have adapted accordingly, and so repeatedly managed to anticipate important technology trends. Based on this, we have developed innovative software products and successfully positioned them as originals on international markets.
It is therefore important to us that as well as a professional education and attitude, you bring along flexibility and adaptability. We offer you the opportunity to further develop your strengths in a passionate and dedicated team that will treat you as an equal.
Conscientious and careful or spontaneous and creative?
Talent and character, strengths and weaknesses, beginners or professionals with decades of experience: the range of tasks that we have to deal with as a technology leader in our niche if we want to expand our position is wide-ranging. That is why we want to attract talent, appreciate your character, and promote your strengths. We want to use your experience and not curb your enthusiasm. Professional commitment - passionate dedication - fair pay - and a relaxed working environment is included.
Enjoy working!
Achieving more together - we are convinced of that! In different interdisciplinary teams, we develop new ideas and products. As a result, we have a strong team spirit and also have fun at work.

With a twinkle in the eye, we take up any challenge and can rely on the support of our colleagues at any time.

With us, everyone has the opportunity to contribute their strengths. And the solidarity in the estos team is one of the reasons why we enjoy working.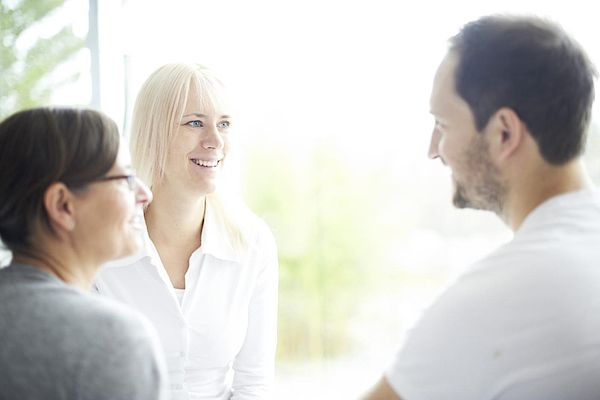 Sales Account Manager Germany, Austria and Switzerland (m/f)
As a Sales Account Manager you have the opportunity to bring your strengths into our support and promote the ITK distribution channels personally. You will also represent estos and our philosophy convincingly on our numerous customer events and fairs during the year.
Senior Software Developer (m/f)
As a protocol specialist, you will join our developer team dealing with the Microsoft Windows environment. You are very familiar with CSTA, TAPI, SIP, XMPP or LDAP. Support our product development process from the outset and bring along your experience and expertise.
Software Developer Mobile Applications (m/f)
Promote our Mobile Applications in the team using modern tools that we offer. Together with our product management, customer support and quality management, develop new products which have the potential to inspire people.
Apply now for your job at estos
Send Florian Bock your application quoting your salary expectations and earliest start date.
estos GmbH
Mr. Florian Bock
Petersbrunner Str. 3a
82319 Starnberg
Germany
Not the right job for you? Unsolicited applications are welcome!
Use your initiative and apply with your resume, cover letter and earliest possible start date. We can help you find a suitable job at estos.