ProCall Meetings
Easy online meetings and video conferencing
Flexible and location-independent workplace and working time models as well as the rapid digitalization of all areas of life present companies with major technical, legal and organizational challenges to ensure communication and collaboration with colleagues, business partners and customers. ProCall Meetings extends ProCall Enterprise with simple online meetings and video conferences.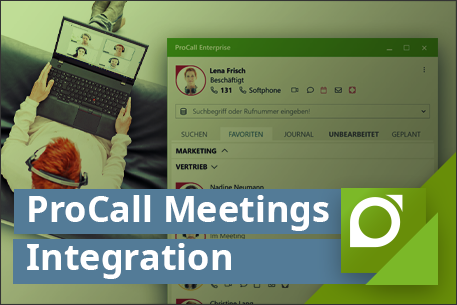 The new features at a glance
ProCall Enterprise integration provides presence matching and quick start from ProCall Enterprise to collaborate effectively and easily
Video conferences with up to 20 participants. It does not matter whether you participate with or without video images.
With TextChat you can write and receive messages to any or all participants.
Work from anywhere with ProCall Meetings
The communication of a company, internally as well as externally, is becoming more and more diverse. As an add-on to the unified communications & CTI software suite ProCall Enterprise, ProCall Meetings enables its users to easily organize and hold online meetings and video conferences. Participation is very simple without any software download or plug-in.
The most important functions at a glance
Highlights of ProCall Meetings

ProCall Enterprise integration: Start your meetings quickly and easily from ProCall Enterprise. Through the integration in ProCall Enterprise, scheduled or ongoing online meetings flow into presence management: The corresponding status "busy" as well as the information "in meeting" is visible for colleagues and can be combined with Do Not Disturb and Busy-on-Busy.

Easy to use without downloads or plug-ins
The participants do not need to register or download any software or plug-ins. A simple click on the meeting link, and the video conference can start.

Personal dashboards for organization
In the clearly arranged dashboard, users create and schedule their meetings and maintain appointments. ProCall Meetings can be interconnected with groupware calendars.
"Personal room": Here you can define that only you can start and end the videoconference. As soon as you have left the virtual room, the meeting continues for one minute.
"My Rooms": Create topic-based online meetings. People who are licensed for ProCall Meetings can use them equally. For example, if you are late or unable to attend, the video conference can still take place.
New***"Other rooms": Now you can also see and start rooms that other licensed users from your company have organized. Once you have joined the video conference, you will see this room in your dashboard.
"MeetNow": Use this feature for one-time ad-hoc video conferences for which you do not want to create a room or a name, and which may need to continue without you.
ProCall Enterprise software suite
With ProCall Enterprise, presence management has always been the basis of flexible workplace and working time models. With its proven UC features and business process integration capability, ProCall Enterprise reliably simplifies communications within and across the enterprise, regardless of location.
Secure: Privacy and IT security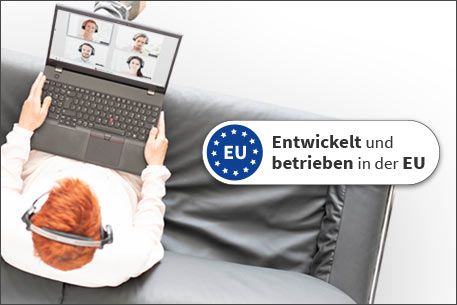 IT security and data protection
All meeting rooms can be optionally PIN protected
Connections are encrypted via https and DTLS+sRTP
User administration runs via the UCServer in the company
All servers used are located within the European Union
And, of course, ProCall Meetings is GDPR compliant
Updates and new features are included. So all users are always up to date with the latest technology & security
Easy: In the browser without download or plug-in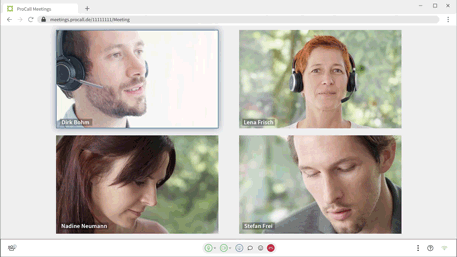 Supported web browsers
Web browser with WebRTC support
e.g. current versions of
Google Chrome™
Mozilla Firefox®
Apple Safari Mobile (iOS 14, iPad, macOS)
Microsoft® Edge
Not supported
Microsoft Internet Explorer
Google Chrome on iOS
Old versions of Microsoft® Edge (without Chromium)
Location-independent: Hybrid cloud with UCConnect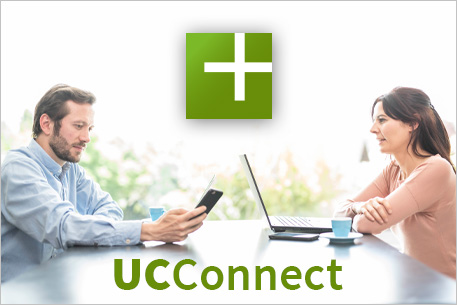 Ensures permanent state-of-the-art safety and controlled availability
Enables ProCall meetings to be set up and run without special IT know-how
Connects to the UCServer for licensing, login and presence matching with ProCall Enterprise