ProCall Meetings
Easy online meetings and video conferencing
Flexible and location-independent workplace and working time models as well as the rapid digitalization of all areas of life present companies with major technical, legal and organizational challenges to ensure communication and collaboration with colleagues, business partners and customers. ProCall Meetings extends ProCall Enterprise with simple online meetings and video conferences for up to 15 participants.
+++ Field trial +++ Field trial +++ Field trial +++ Field trial +++ Field trial +++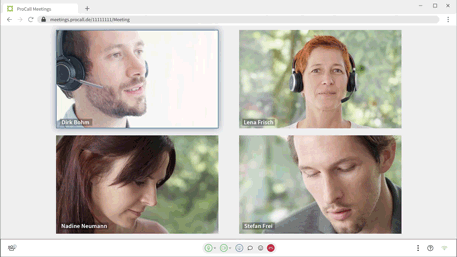 Work from anywhere with ProCall Meetings
The communication of a company, internally as well as externally, is becoming more and more diverse. As an add-on to the unified communications & CTI software suite ProCall Enterprise, ProCall Meetings enables its users to easily organize and hold online meetings and video conferences. Participation is very simple without any software download or plug-in.
Highlights of ProCall Meetings

Easy to use without downloads or plug-ins
The participants do not need to register or download any software or plug-ins. A simple click on the meeting link, and the video conference can start.

Personal dashboards for organization
In the clearly arranged dashboard, users create and schedule their meetings and maintain appointments. ProCall Meetings can be interconnected with groupware calendars.

Integration in ProCall Enterprise
Through integration in ProCall Enterprise, scheduled or ongoing online meetings are included in presence management: The corresponding status "busy" as well as the information "in meeting" is visible for the colleagues and can be combined with call protection and busy-on-busy.
With ProCall Enterprise, presence management has always been the basis of flexible workplace and working time models. With its proven UC features and business process integration capability, ProCall Enterprise reliably simplifies communications within and across the enterprise, regardless of location.
The most important functions at a glance
Easy: In the browser without download or plug-in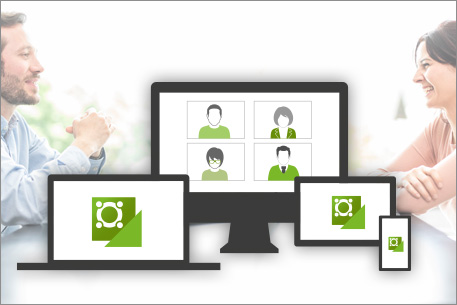 Supported web browsers
Web browser with WebRTC support
e.g. current versions of
Google Chrome™
Mozilla Firefox®
Apple Safari Mobile (iOS 14, iPad, macOS)
Microsoft® Edge
Not supported
Microsoft Internet Explorer
Google Chrome on iOS
Location-independent: Hybrid cloud with UCConnect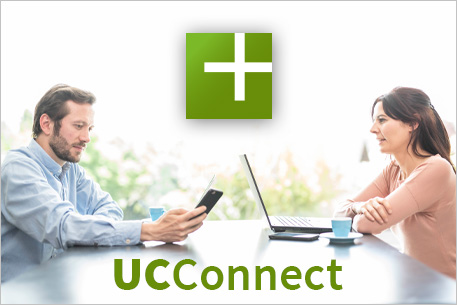 Simplify the setup of estos software products
Reduce the need for customization of the customer infrastructure
Enable commissioning without special IT know-how
Ensure permanent state of the art security
Ensure controlled availability
Secure: Privacy and IT security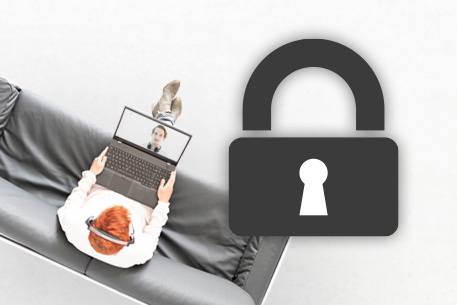 Password protected meeting rooms
Secure connections (https)
User administration via the UCServer in the company
GDPR compliant: All servers used are located within the European Union
Your participation
You or your customers use ProCall 7 Enterprise nd would like to register for the field test? Then register yourself or your end customer via the estos websites. You will receive a test license with a term of 3 months. You enter this into the UCConnect account and release the corresponding number of users – a maximum of five – for ProCall Meetings.
For certified estos partners
Please register to participate under our estos Partner Portal.
For companies
Please select a certified estos partner who will perform the registration for you.
Your feedback
You and your customers give us feedback directly from ProCall meetings via "Report Problem" or via our ticket system. All feedback is valuable!