UCC with ProCall Enterprise and HFO Crown Centrex
Benefit from communication tailored to your individual needs!
The combination of HFO's virtual cloud-based telecommunications solution with estos' unified communications software provides a solution for telephony, CTI and unified communications that is tailored to your company's needs.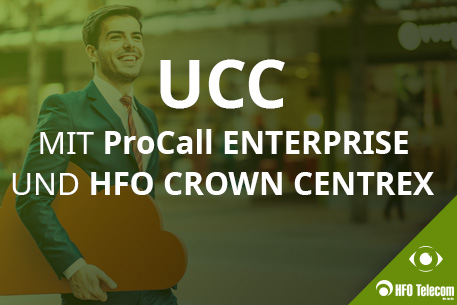 The Connection – ProCall Enterprise and HFO Crown Centrex
There are two possible variants for using ProCall Enterprise with HFO Crown Centrex:
If you use hardware telephones, the connection is made in the classic way via ECSTA for SIP Phones.
If you prefer an infrastructure without hardware, ProCall Enterprise offers softphone functionality: Using an integrated SIP-compatible softphone, employees can make phone calls with external and internal participants.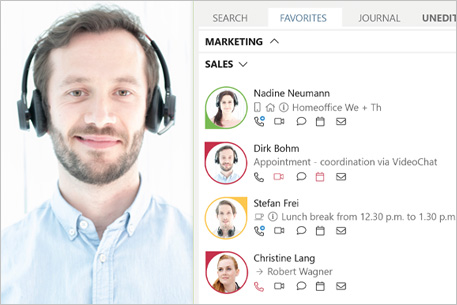 ProCall Enterprise – the unified communications & CTI software suite
Regardless of which variant you use to operate ProCall Enterprise with HFO Crown Centrex, the advantages of the UCC suite are fully available to you: Reliable and independent of location, estos software simplifies communication between companies internally and across company borders. Whether at home, in the office or on the move: ProCall Enterprise offers proven UC functions such as CTI, audio/video chat, the possibility of integrating UCC into business processes and a powerful presence management system. With the ProCall Mobile Apps, selected UCC functions are available to employees on their smartphones while out of office.
The telecommunications solution from the cloud
All you need is powerful Internet access and terminals - no more technology is needed to use HFO Crown Centrex. HFO Crown Centrex is a virtual telephone system. Future-proof and location-independent. Can be used with a smartphone app, a fixed phone or the softphone, i.e. a desktop phone. Customer data such as telephone directories are secure because only German servers are used. And: You do not have to worry about updates at all - they run automatically. The number of user accounts depends entirely on individual needs. HFO Crown Centrex: Crystal-clear telephony anytime, anywhere.
A company in the telecommunications industry
The HFO Telecom GmbH. a nationwide operating company, which has been on the market since 1997 and is located in Oberkotzau in the district of Hof. The company combines maximum competence and top products – year after year this is the key to success – especially with business customers. HFO Telecom is the high service partner in the telecommunications industry – has been a specialist in IP telephony for 15 years and offers with HFO Crown Centrex a future-proof cloud telephone system for modern business communication.
Technical Information
We have concrete technical connection instructions for you here (only in German).