Cloud-based telephony meets UCC
Use the advantages of the virtual telephone system aut-voice in combination with the UCC suite ProCall Enterprise!
Flexible workplace and working time models present companies with technical and organizational challenges. estos and autphone together offer simple solutions to meet these challenges.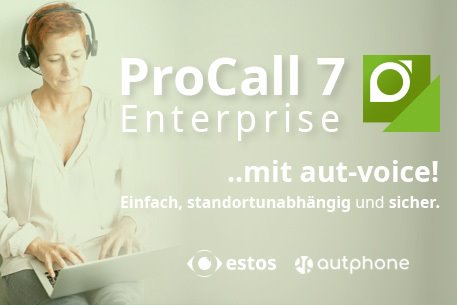 The connection – ProCall Enterprise to aut-voice
The autphone VoIP system and the unified communications & CTI software suite can be connected in two ways:
Via ECSTA for SIP phones, the connection is made if the user wants to use hardware phones.
With the softphone functionalities of ProCall Enterprise, an infrastructure can be realized without hardware: Employees make internal and external calls via an integrated SIP-compatible softphone.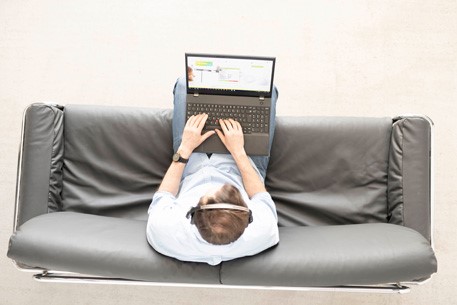 The unified communications & CTI software suite ProCall Enterprise
Regardless of the connection variant, all the advantages of ProCall Enterprise are available. Reliable and independent of location, estos software simplifies communication between companies internally and across company borders. Whether at home, in the office or on the move, ProCall Enterprise supports flexible workplace and working time models. The software offers proven UC functions such as CTI, audio/video chat, the option of integrating UCC into business processes and a powerful presence management system. With the ProCall Mobile Apps, selected UCC functions are available to employees on their smartphones while on the move.
The autphone VoIP system
Virtual PBX or IP Centrex systems offer centrally managed convenience telephony functions independent of location. aut-voice enables companies to migrate their existing telephone system to the cloud-based solution from autphone. The virtual PBX solution is suitable for companies that have one or more locations and want to benefit from a centralized system operation so that they are not dependent on local systems.
Advantages of the virtual PBX
Flexible call distribution with voice guidance
Certified IP terminals with Zero Touch Auto Provisioning
Free software and system updates
Free calls to all autphone customers
Full cost control through Top Stop