New Normal, New Work, Hybrid Work:
Communication in Work 4.0
Flexible company communication with ProCall from estos
Homeworking, videoconferencing, remote work – the pandemic has shaken up the culture of presence in companies. In a short time, isolated solutions were created to maintain communication within the company. Now it's time to establish the new communication potentials in your company on a long-term basis. Offer your employees an innovative, flexible workplace – ProCall from estos supports you in doing so!
New normal, new work and hybrid working
New normal – the "new normal" describes the state in which society finds itself after an extreme situation. Drastic changes in 2020 have awakened new needs and altered long-standing processes. This rapid, digital development has had a lasting impact on the classic workplace.
New work – the desire for more flexibility in the workplace has increased. The trend toward more autonomy in workplace design by the employee has increased significantly. At the same time, a new awareness of collaboration has emerged. Communicating with each other is the basis of all corporate processes and at the same time a need as well as a necessity.
Hybrid working from home, in the office or on the move is no longer a trend of the future, but already a decisive component in the digital working of World 4.0. The flexible choice of workplace offers opportunities and challenges at the same time: for customers, employees and companies.


Flexible workplace – a challenge for employees?
Leaving familiar terrain demands a high degree of changeability from companies and employees. The daily routine at the workplace gives employees security; with ProCall from estos, employees communicate according to their individual habits, no matter where they are located.
Collaboration over distance – how do colleagues stay in touch?
Flexible workplaces create a physical distance. A quick visit to a colleague's desk to clarify complex issues is not possible. Innovative, digital communication options from estos bring your employees together
New Work – the end of the office workplace?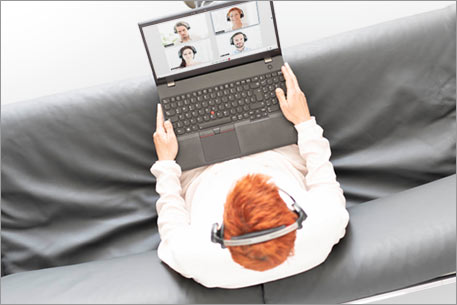 Short distances to commute and more time for the family on the one hand, lower office costs on the other: The trend toward remote working has gained momentum. At the same time, social interactions and personal meetings have gained in importance. The workplace is becoming flexible – ProCall supports you in this..


Hybrid work – a challenge for IT
In the world of Work 4.0, companies must constantly adapt to new technological requirements. Software from estos supports companies in meeting all technical, legal and organizational requirements and makes operation and administration simple.
Work 4.0 – more digitization, less customer service?
Long waiting queues, constantly spelling out names or repeating customer numbers several times – welcome to the "service desert". With ProCall, you personalize your approach and offer your customers superior service through digital communication potentials.
Unified Communications – communicate quickly, effectively and easily
New, digital communication channels have conquered the working world. Text or video chats and provide for a fast, location-independent exchange and complement the classic communication by telephone, e-mail and fax. A flexible workplace requires that collaboration between colleagues and accessibility for customers is guaranteed and that all channels are served. With ProCall Enterprise, your employees communicate easily and efficiently – in the office, remote working or on the move.
Learn more about the new version, how to use it and about upgrade and crossgrade procedures from other product versions. Feel free to contact me.