Universe Cloud and ProCall Enterprise
Stay in touch – always and everywhere
Smart working, remote working challenge, decentralized workplaces – everyday working life has changed. estos and Firstcom Europe AG (formerly C+ITEC AG) support you in mastering the challenges of the new normal with unified communications.
The connection – Universe and ProCall Enterprise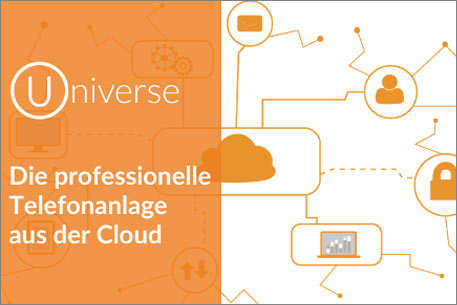 There are two connection options for using the ProCall Enterprise unified communications & CTI software suite in conjunction with Universe cloud telephony:
Use without telephony hardware can be implemented with the softphone functionalities of ProCall Enterprise to make internal and external calls via the integrated SIP-compatible softphone
Advantages of the UCC Suite ProCall Enterprise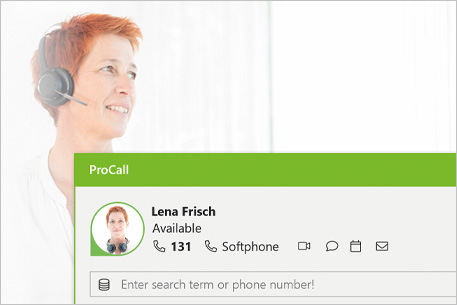 Take advantage of all the benefits of the UCC suite for unified communications and CTI – no matter which connection variant you use for ProCall Enterprise on Cloud PBX Universe: All important communication channels are available in a single application: Text, audio and video chat in the office, remote working or mobile with PC, laptop, tablet or smartphone. The presence management system included provides information about who is in the office, who is available, and by which communication channel they can best be reached. Business process integration delivers all important information about the call partner at the right time.
Universe Cloud: Business communication made easy
Universe is not just a phone system from the cloud. It is a powerful, customized unified communications system. Easy to set up, with sensational features and above all reliable and secure.
Sensational features
The Universe Cloud is a forward-looking telephone system with integrated video and audio-conferencing system, answering machine, software fax and functions such as recording, "text to speech" or the announcement server. All of these make daily work easier.
Customizable
One platform for all services, across all countries. The different Universe Cloud models optimally cover your needs.
The ITC full-service system house with added value!
We, Firstcom Europe AG (formerly C+TEC AG) from Goldbach in Bavaria, develop creative communication solutions and web-based unified communications platforms. Consequently, as a full-service provider, we also offer telephone and internet connections.
Our advantage: A service team that is available 24/7, takes care and explains the technical interrelationships in an understandable way. In this manner, we ensure trouble-free and fail-safe operation and focus on prevention through our proactive service.
With our cloud, all communication channels are available to you: Telephone, fax as well as audio or video conferences. It doesn't matter which device you use to make the call. You can choose between a PC, desk phone or mobile app.