CTI telephony & unified communications for Majesty
For professional customer service and satisfied employees
Majesty is one of the leading ERP software solutions in the field of medical technology and the machining industry. Developed by the manufacturer majesty GmbH, offers ERP modules for purchasing, sales, logistics, financial accounting and production, as well as numerous additional tools such as the ISO 9000 certification. Combined with estos software products, further integration is achieved whereby the communication and business processes are directly interlinked.
Advantages of Majesty ERP software
With Majesty ERP software, companies are able to increase their productivity in the field of production, improve order management, and connect multiple business areas together. Various additional tools such as quick search, hyperlinks or sidebars, allows for a simplified and faster workflow. Integration with estos software products opens up further advantages in the area of internal and external cooperation.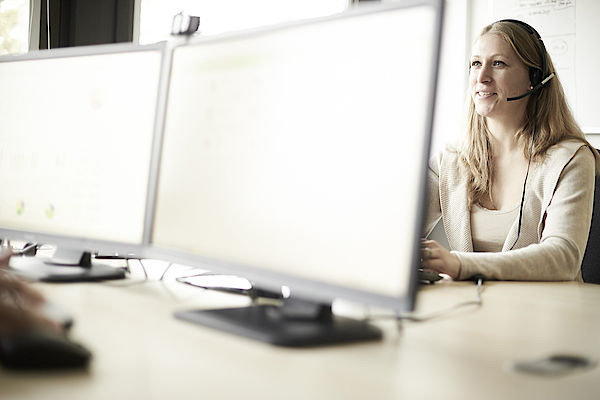 The benefits of combining with estos
As an independent manufacturer of unified communications (UC) & CTI software, estos, together with majesty GmbH, have been Microsoft Gold Partners for Application Development for years. Therefore, the products can be ideally combined with one another, which results in significant added value for users. By integrating the UC software ProCall Enterprise with Majesty ERP, communication functions are interlinked with the leading application.
Integration of Majesty into the ProCall Enterprise conversation window
When a call arrives, the regular ProCall Enterprise conversation window is opened, which displays all of the caller's company information. In addition, the user now has the opportunity to open the call partner's master data in Majesty with just one click and, for example, to view all customer or supplier information.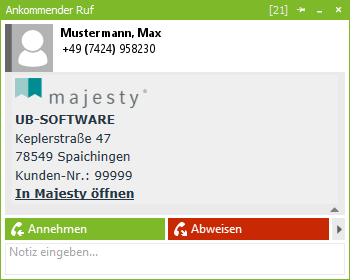 Components of the combination solution
ProCall Enterprise, as a unified communications & CTI software suite, combines all important communication channels into a single application. In addition to proven CTI (Computer Telephony Integration), instant messaging (chat), presence management and screen sharing, ProCall Enterprise also provides audio/video communication (WebRTC-based) capabilities in the form of text, audio and audio/video chats.
MetaDirectory, as an LDAP server, merges the various company's available data files into a single, company-wide directory service. All contact data found is uniformly displayed. For example, employees have access to all relevant information about the caller prior to the call, so that they can be appropriately welcomed and supported.
Learn more about MetaDirectory  
Majesty, as an ERP software, supports companies in their resource planning. In addition to its basic features, Majesty also allows individual software customization to meet a company's needs. Majesty is one of the most widely used ERP programs, especially among companies in the medical technology and the machining industry fields.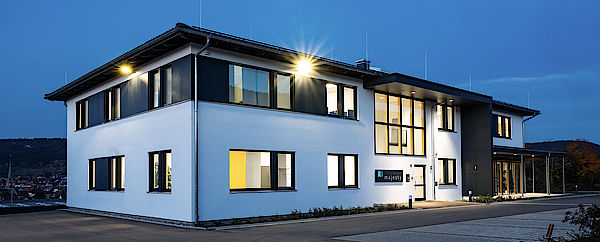 Interested in the combined solution?
Then we recommend that you contact the manufacturers of the Majesty ERP software directly: majesty GmbH is a well-known German manufacturer who, upon request, will be pleased to advise you about a combination solution with estos software products. majesty also takes over the integration of ProCall Enterprise into Majesty ERP.
Contact:
Tel.: +49 (0) 74 24 / 958 23-0