UCConnect
The cloud services portal from estos.
UCConnect is estos' own platform for the cloud. It offers various modules for companies that rely on the hybrid cloud concept and therefore operate software components from the cloud in addition to their own hardware. Software can be licensed, software maintenance contracts can be managed, and hybrid cloud services can be activated with just a few clicks and without special IT know-how via UCConnect.
The Hybrid Cloud Services describe the estos cloud services ProCall Mobility Services, ProCall Voice Services and ProCall Meetings and ensure their availability. Via UCConnect, the estos online services can be activated, configured and controlled easily and without special IT know-how.
Business Support Services
The Business Support Services allow you to configure and activate estos Hybrid Cloud Services with just a few clicks, as well as perform online licensing for a range of ProCall products. You also have a complete overview of all your licenses and contracts.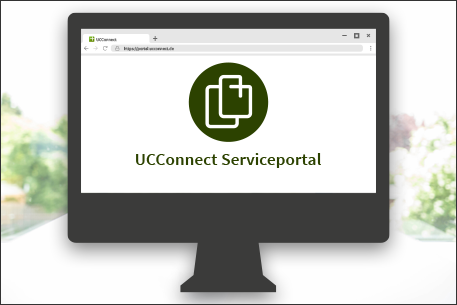 UCConnect takes two perspectives into account: that of the end customer and that of estos partners.
End customers can manage their estos licenses, services and contracts via a UCConnect customer account. The UCConnect customer account can be created by the end customer themselves or by their estos partner on their behalf.
The UCConnect retailer account is especially for estos partners, because a partner usually has several end customers. In the retailer account, the partner has an overview of all end customer accounts assigned to him and can manage the licenses, services and contracts of their end customers as well as create and manage additional end customer accounts.
As an end customer, you can register your company to use the portal as well as to use the UCConnect cloud services. Click here to create a UCConnect customer account:
UCConnect retailer account
As an authorized or certified estos partner, you already have a reseller access to UCConnect. This was created automatically when you registered as a partner, and the access data was sent by e-mail. Click here to log in:
We take data protection seriously
The protection of sensitive data is very important for the hybrid cloud building blocks. Therefore, all the servers used are located in the European Union, so there is no export of data.
The legal framework with regard to data protection follows the requirements of the General Data Protection Regulation (GDPR) and provides legal certainty. [estos GmbH Data Privacy Statement]
I will be happy to answer your questions