Unified Communications & CTI Software
Since 1997, we have developed unified communications & CTI software for companies. The foundation of our success to this day is recognizing trends as early as possible and using them to design innovative products.
Show presence with ProCall 7 Enterprise
estos enables easy communication – that is the maxim of estos products. At ProCall Enterprise, presence management has always been the basis for flexible workplace and working time models. The newly prepared user interface of the ProCall client enables quick and easy clarification of the availability of a contact. This is the ideal information basis for choosing the most sensible communication channel.
Easy communication since 1997
estos GmbH is an independent producer for innovative unified communications components. Since 1997, we have been developing communication software in Starnberg. Over the years, estos has succeeded in continually presenting products in an extremely dynamic market that are used by more than one million users in companies every day.
One of the main reasons for our success today is the ability to recognize trends very early and take an active part in innovating emerging technologies. What distinguishes us, what products we offer and our vision is shown in this short company clip.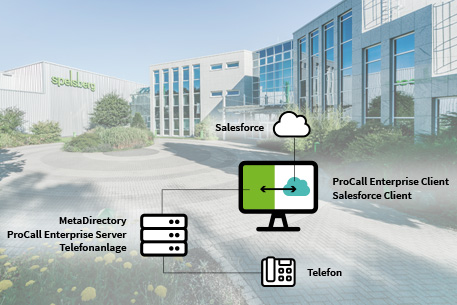 Industry: Electrical installation and housing technology

Products used: ProCall Enterprise, MetaDirectory, ECSTA
"Dialing selected phone numbers and the fast search of almost 70,000 data items with the help of MetaDirectory is what our employee's value most," says Sören Berka, responsible for IT+Organization at Spelsberg. The individually adaptable business process integration with Salesforce and proALPHA were the decisive factors for the decision in favor of software from estos.
The Spelsberg GmbH & Co. KG is a market-leading company in the electrical industry with 115 years of experience in the fields of electrical installation and housing technology. ProCall Enterprise, MetaDirectory and the ECSTA for OpenScape Business are used.
Industry: Industrial products
Products used: ixi-UMS and ProCall Enterprise (incl. contact portal)
Kertész Kabel AG is one of the leading cable providers in Switzerland with over 60 employees. For communication with clients and prospective customers, Kertész relies on software know-how from estos and uses an integrated solution that enables both the classic communication channels such as fax and new possibilities such as real-time communication via the company's website in the form of audio/video chats (based on WebRTC internet technology).