ECSTA
Connect telephone systems
ECSTA's middleware products enable communication between the telephone system and the IT infrastructure. Thus, telephone systems and connected telephones can be easily controlled from the PC.
Connecting worlds. Exploiting synergies.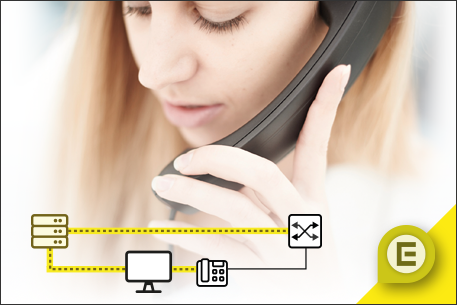 Computer Telephony Integration (CTI) is the connection of on-premises or cloud-based telephone system and the IT world. CTI enables control of the telephone with the PC and ensures more efficient communication processes in the company.
For PBXs from the cloud or on-premises
Networking across multiple sites and PBXs
Multiple instances
Manufacturer-independent (MultiVendor)
Connection of SIP phones
ECSTA enables the reliable connection of your telephone system with the IT infrastructure. Integrate communications into your business processes to simplify your employees' daily work and increase your customer service. Advantages of the ECSTA series:
Investment security
Change of telephone system (system type or manufacturer) independent of IT infrastructure is possible at any time.
Scalability
Connection of several locations with different telephone systems (also from different manufacturers) is no problem.
Professional TAPI drivers
As middleware, the ECSTA series enables communication between your telephone system and the Microsoft Windows world by converting the system protocol CSTA to the Microsoft TAPI standard.
Connect on-premises or cloud-based telephone system
The middleware products of the ECSTA series connect the most diverse telephone systems with the IT world.
Connecting phones to cloud-based phone system
The professional TAPI driver for SIP phones connects hardware phones with cloud-based PBXs
Find the technical documentation for the product in our support portal, such as system requirements, release notes or an overview of supported telephone systems or end devices and much more.
Versatile combinations. Exploit the possibilities.
The ECSTA series enables the reliable connection of your telephone system to your IT world. This connection, e.g. of a unified communications software with a CRM, ERP or ticket system, allows communication processes in the company to be linked in a meaningful way and thus designed more efficiently. For satisfied customers and successful service. You will find everything you need at estos:
This also persuaded ESWE Versorgungs AG
ESWE Versorgungs AG is a modern energy service provider with over 87 years of history. ESWE supplies its customers with electricity, natural gas and district heating in the Wiesbaden area and enjoys a very good reputation nationwide. Since ESWE places a high value on professional and fast customer service, the advantages of estos software products are put to optimal use here.
Products used: ProCall Enterprise, MetaDirectory and ECSTA series
Here you will find information material about the product and links to technical articles about e.g. setup and commissioning
Learn even more about ECSTA, the application and combination possibilities and about upgrade and crossgrade procedures from other product versions. Feel free to contact me.