LiveChat
Software for digital customer contact & video consulting
LiveChat extends the classic possibilities in which a prospective customer can engage with a company to create interactive touchpoints. Via the website widget, the contact portal or the multimedia business card, the employees of a company can be easily reached by digital means.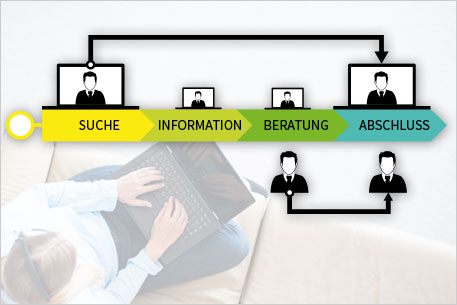 An integrated digital customer experience
With LiveChat, a company offers prospective customers and users an optimized customer experience. Already in the early stages of search and information, digital touchpoints enable easy, direct and personal contact with company employees. In this way, a prospective customer can contact the company in a quick and uncomplicated way and clarify important questions much earlier, compared to the classic customer journey. This also shortens the decision-making process up to completion.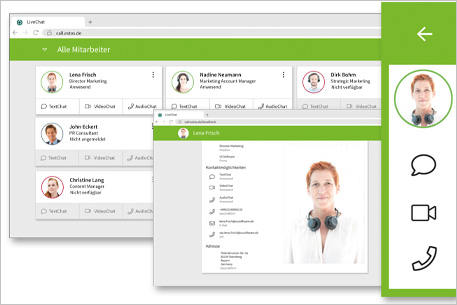 Various contact opportunities
Whether as a contact portal that makes employees of a company visible from the outside, or as a multimedia business card or integrated widget on the website: With LiveChat, companies offer prospective customers and users a variety of options for digital customer contact and video consulting. The often crucial consulting service can be provided digitally much earlier without the employee having to leave his workstation or the prospective customer/user having to visit a branch of the company.
Sparkasse am Niederrhein (Sparkasse on the Lower Rhine) – an estos reference customer
"At the moment, LiveChat is used very, very much, for small requests and for problems that can be solved quickly." says Sandra Gardemann, employee in the multimedia sales department of Sparkasse am Niederrhein.
Sparkasse am Niederrhein uses LiveChat from estos to offer its customers additional communication options directly via the website. Whether as text, audio or audio/video chat – for example, the customers can speak directly with Sparkasse employees about opening an account, with the aid of video identification.
Rapid exchange of information:
Website visitors and consultants share content such as files, photos or videos through the chat. The administrator can set the maximum file size and exclude file formats, if necessary.
Reply and Forward:
Chat participants can reply to certain messages from the history or forward messages to other users.
Intuitive handling:
The completely redesigned user interface improves usability for the employees in companies that advise website visitors. For example, the display and backgrounds can be individually configured
Easy to find:
Consultants can search for people, groups or content in the different chat rooms – team, private or public.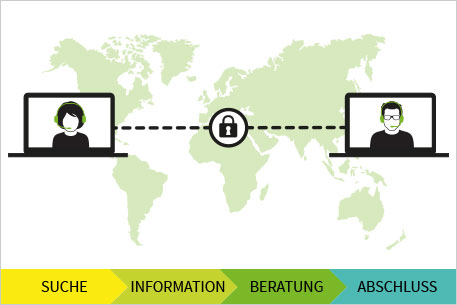 Adaptable to your needs
Supports responsive web design
Your corporate identity
Security for you and your customers
Consistently TLS encrypted
End-to-end encrypted video chats
Reports and analysis
Server-side logging
Integration with Google Analytics & Matomo
Offer your visitors personal contact opportunities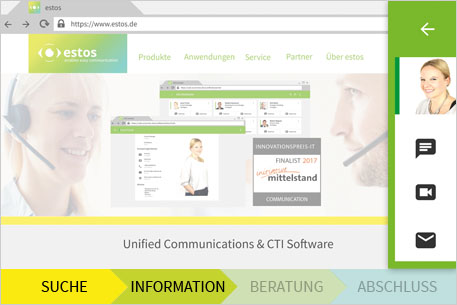 Support visitors directly on your website
Integrated or pop-out widget
Text chats
Delivery notifications
Forwarding
Emojis
Notifications (sound, flashing etc.)
Contact related conversation history
Automatic chat invitations
Give transparent information about the availability of your employees
Stay organized
Control over the service level
Stored answers and text templates
Stay in control of the availability of your advisors
Website presence
Manual presence
Automatic presence synchronization
Telephony integration
Calendar integration
Automatic detection of inactivity
Always display the most appropriate contact person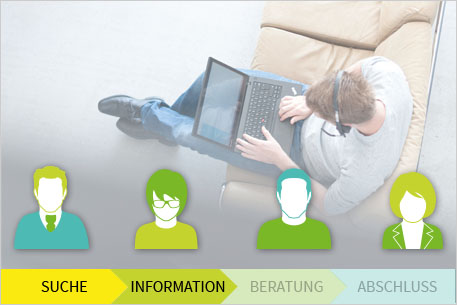 Identify your call partners
Intelligent website distribution of visitors to advisors
For groups based on
Availability
Utilization of the individual advisors
Prioritization of the last person spoken to
Configurable overflow groups
Provide professional advice at any time through video chat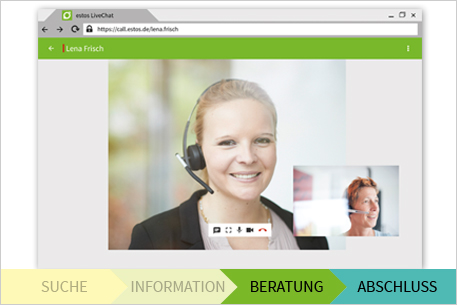 Advise prospective customers by video chat without obstacles
Browser-based with WebRTC
On the desktop and mobile
Without downloads and plug-ins
File transfer
Screen sharing
Safely secure prospective customers through video
Video legitimation compliant with the "Rundschreiben 3/2017 (GW) – Videoidentifizierungsverfahren" of BaFin (Circular 3/2017 [GW]) – Video identification procedure of German Federal Financial Supervisory Authority).
Guided process for the advisor
Software-supported ID card verification
Integrated TAN procedure (e-mail & SMS)
Continuous audio recording
Screenshot function
End-to-end encrypted video chats
Do you have any further questions? Just contact me with LiveChat. With pleasure anytime!