CTI telephony & unified communications for itacom CRM
Future-proof software to support business processes
The itacom CRM helps companies collect information about clients, prospective customers or suppliers in order to use it in their daily work. By integrating with the unified communications & CTI software suite ProCall Enterprise, itacom CRM users benefit from an improved telephony experience.
itacom GmbH – IT service provider with its own CRM
The itacom CRM is a multifunctional, multilingual database used by companies in a flexible and sector-neutral way as a tool for communication and digitalization. All forms of communication (telephone calls, meetings, e-mails, mail, fax, training, appointments, documents, records, etc.) from all departments are bundled and stored in a structured manner and integrated into existing systems.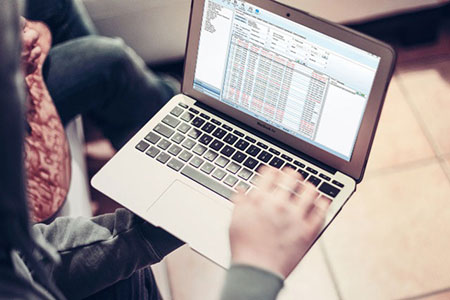 Connection options with ProCall Enterprise
In principle, the user has two options on how to configure the display in the conversation window. The first is the direct, automatic retrieval of an address in the itacom CRM for incoming calls via the stored URL. Optionally, the user can retrieve the address in the itacom CRM when necessary, for example, when the itacom CRM logo is clicked on. However, only one of these two options can be selected, because they are mutually exclusive.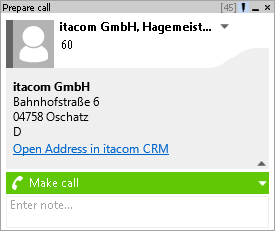 Intergrating important business processes
By integrating the CRM and the unified communications & CTI software suite ProCall Enterprise, companies are choosing to integrate important processes together. At the same time, a stand-alone solution is avoided. This integration enables businesses to improve internal collaboration by providing relevant information on a company-wide basis as well as a professional telephone service to their customers.