Unified communications & CTI for Microsoft Dynamics
Extend Microsoft Dynamics CRM & ERP applications with valuable communication functions from estos.
Improve your daily communication with colleagues and customers. Numerous intelligent features help with recurring tasks to support your employees in their day-to-day work. For example, when you receive a call, all important information about the caller is immediately available and you can initiate actions such as placing an order with just one click.
You have chosen a Microsoft Dynamics application to offer your customers the best possible service. With estos products, that can be easily integrated into existing structures, you can further optimize your customer service, interlink and improve processes. For satisfied customers, who remember you in a positive light.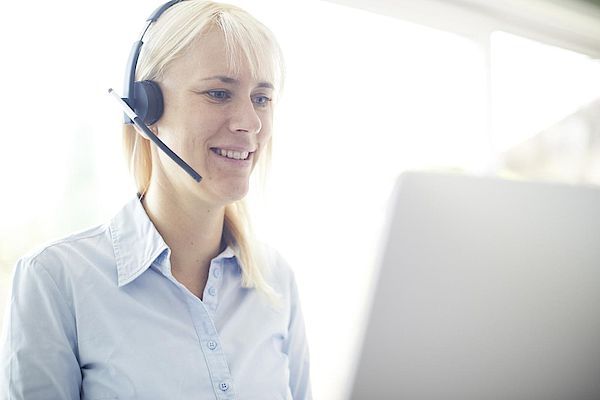 Experience concrete benefits every day!
Imagine one of your clients calls and all the necessary and helpful contact and company data is available before the call starts. Focus directly and solely on your call with no need to laboriously look for the necessary information. Take advantage of changing to the correct application with just one click from the call window that appears
If your caller is not yet known, you can transfer the call number, or complete data record if using a telephone directory CD, directly into the correct form. This saves you valuable time and instead you can concentrate fully on your business partner.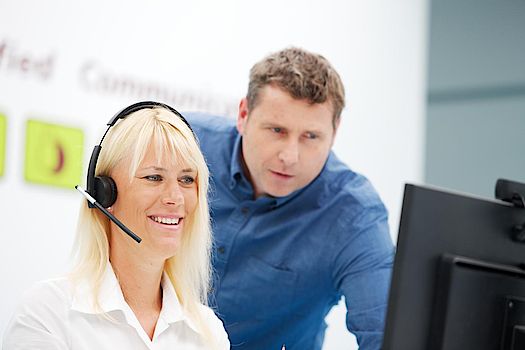 Numerous customization options – individual and flexible
With clever interfaces, such as those in the ProCall Enterprise software, the effort for customer-specific adaptations and various integration depths is kept within limits.
Why business process integration?
Optimal communication with the customer is one of the most important success factors for companies that want to position themselves ahead for the future and act flexibly. As a rule, every employee has multiple applications with different databases in daily use. An exchange between them often takes time and does not always run smoothly.

Useful business process integration provides you with the opportunity to integrate different systems in a common, leading application. Thus, you can easily change to another within the leading application.

By integrating communication functions into the existing IT application world, the natural and intuitive workflow of the users is optimally supported and they do not feel "bossed around" in any way – one of the reasons why new software otherwise often meets with rejection by the user.
Direct dialing from CRM contacts with a mouse click (Click2Dial)
Central/local connection of contact data via MetaDirectory (for improved search results)
Customization of the conversation window
Adaptation of the ProCall menus using estos SDK (Software Development Kit)
Contact display of incoming calls
Automatic opening/by clicking the necessary contact form during/after the telephone call
Simple creation of new leads, companies or contacts with automatically correctly formatted call number
Direct contact transfer from the 'Das Telefonbuch' CD
Three alternative levels of integration
Integration via configuration
Use contact data from CRM and ERP programs in your CTI application. Have all important data displayed in the pop-up window. Or dial via the MS TAPI functions or a hotkey assignment directly from the ERP and CRM system that you use most often.
Flexible adjustment of needs
Flexibly adapt your special needs by adjustments based on XSLT or scripting. This requires mastery of a common scripting language such as JavaScript or VBScript.
Achieve a maximum level of flexibility and an optimal customization of the application with the aid of the special estos SDK (Software Development Kit) as well as your own programming performance. The basis for this is an appropriate programming environment as well as the mastery of relevant programming skills.
Although Microsoft Dynamics products have different histories, there is one thing they have in common: they all enjoy great popularity among numerous customers. Therefore the integration of estos software with Microsoft Dynamics CRM, Navision and Axapta has been one of the most frequently desired solutions for around ten years and we and our specialized partners therefore have a lot of experience with it.
The integration depth can be selected as needed. It is directly related to the expected complexity of implementation.
The optimal integration for you!
Basically, ProCall products were developed for deep interlacing with common CRM and ERP solutions. From the perspective of typical estos software (ProCall Enterprise in combination with MetaDirectory), integration is possible in three stages for these application cases. The first and simplest stage is "integration via configuration".
This enables use of contact data from the CRM and ERP database in the CTI application, the pop-up of the desired application for an incoming call, as well as dialing from the CRM or ERP system via MS TAPI functionality or a hotkey.
Specialized partners with know-how
The second more challenging stage enables a more flexible adaptation to specific needs based on XSLT or scripting. The basis for this is the mastery of a scripting language (e.g. JavaScript, VBScript). The third stage via SDK and programming performance allows maximum flexibility and optimal adjustment.
A programming environment and corresponding programming knowledge is necessary for this. We recommend a specialist partner for this stage at the latest.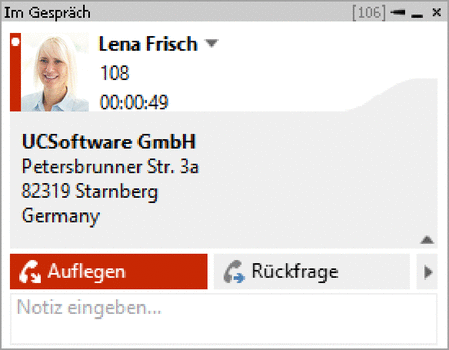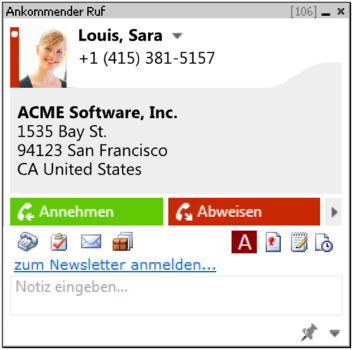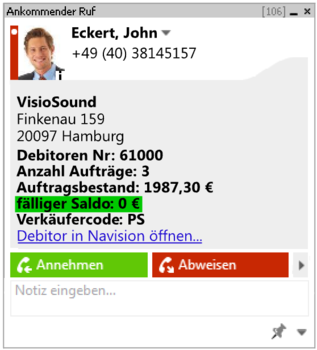 Recommended implementation partner


Do you use Microsoft Dynamics CRM, Navision or AX and do not want to do without CTI Comfort features for your daily work?
Then contact us. We are happy to help.