CTI & UC for AiXverein from SoftAiX
More efficient communication for home, apartment and landowners associations
The integration of AiXverein with ProCall Enterprise simplifies daily communication for associations. Users can see all of the important caller information immediately when the call is received. With one click during the call you can switch to the master data view of AiXVerein. This allows information to be adapted or recorded immediately. Users are able operate more effectively. Daily work is simplified by a variety of additional functions.
AiXVerein by SoftAiX is a complete solution for membership management. It is developed in cooperation with various property associations. AiXVerein is tailored to the needs of representing the interests of house, apartment and land owners. The software is clearly arranged and easy to use. The central view is used to display and edit the membership records. All information on individual members can be stored and edited in a structured manner via tabs. A comprehensive search function helps with the data record search.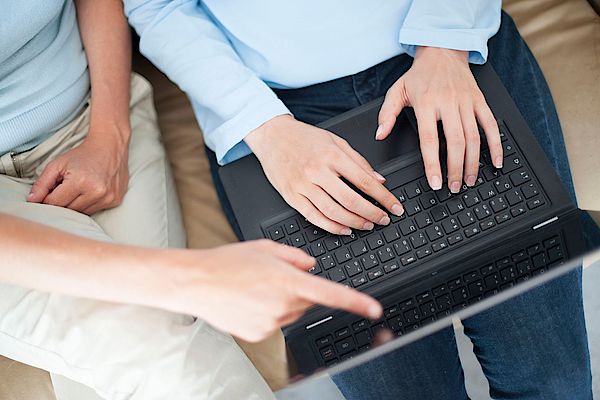 Advantages of AiXVerein
Comprehensive invoicing and dunning with complete SEPA support for direct debit and credit transfers
Document management and mail merge functionality
Special consultant functionalities (e.g. for appointments, minutes and documentation)
Integrated object management
Fully network and multi-user compatible
Differentiated user rights management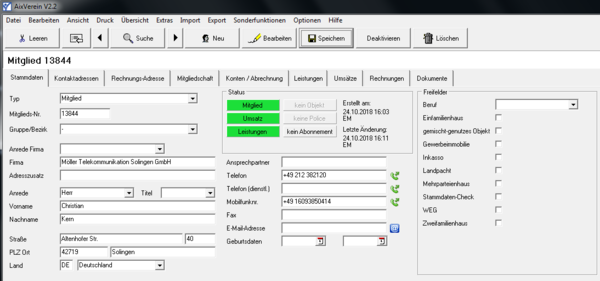 About integration with ProCall Enterprise
The unified communications & CTI software suite ProCall Enterprise can be connected to AiXVerein via available interfaces. Users can see all important caller information when the call is received. Users can switch to the AiXVerein application before or during the call with one click and, for example, easily edit master data, change account connections and create appointments. The estos Expert Partner Möller Telekommunikation Solingen GmbH implemented the integration for the first time.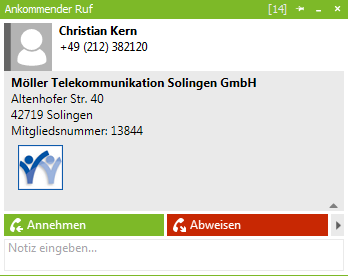 About SoftAiX
SoftAiX is an independent company that offers software development, IT consulting, creation of customer-specific online projects and related services. SoftAiX is dedicated to creating sophisticated software solutions. These are convincing due to their high user-friendliness and quality. SoftAiX reacts flexibly and promptly to customer requests.
To the company's website  (only in German)
Doumentation Help & Contact
You are interested in the combination of ProCall Enterprise and SoftAiX?