TOP 100 Innovator 2023
Innovative and future-oriented products come from estos!
TOP 100 is the only competition in Germany that evaluates the innovation management and innovation successes of companies. Every year, the innovation champions of medium-sized companies are awarded the TOP 100 seal – and estos for the second year in a row!
estos is also one of the TOP 100 innovators in Germany in 2023
"With our innovative products and solutions, we want to make our customers' daily communication more efficient. To this end, we are further developing our proven products along new market requirements and technologies, and at the same time creating new products and services that follow this goal." reports Hille Vogel, Division Manager Markets and Customers at estos GmbH.
"To this end, in 2023 we will make integrations for platforms such as Microsoft Teams available for our products. At the same time, we will offer ProCall Voice Services, an extension of our long-standing bestseller ProCall Enterprise with cloud PBX functions. This superbly integrated cloud PBX will provide our customers with a complete communications offering from a single source. #VoiceMadeEasy. The next step will be a comprehensive UCaaS (Unified Communication as a Service) offering," she added.
"We are particularly pleased that our sister company STARFACE has also been awarded the TOP 100 Seal 2023. It proves that we as a group are truly outstandingly positioned for the future on the topic of Innovation Made in Germany," she concluded.
from left to right: Thomas Weiß, Barbara Mauve, Melanie Bender, Ranga Yogeshwar, Hille Vogel, Florian Buzin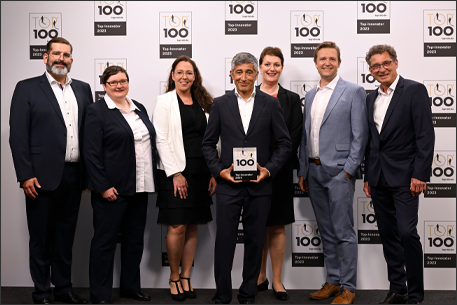 The competition is based on a scientific selection process. Innovation researcher Prof. Dr. Nikolaus Franke from the Vienna University of Economics and Business Administration and his team evaluated estos on the basis of more than 100 criteria from five categories: Top Management Promoting Innovation, Innovation Climate, Innovative Processes and Organization, External Orientation/Open Innovation, and Innovation Success.
Of particular importance is whether a company's innovations are systematically planned and therefore repeatable in the future.
"TOP 100 is about the question of how important the innovation goal is within the company. Do routines and practices dominate, or is the company capable of questioning the status quo, thinking creatively and innovatively, and successfully asserting itself on the market?" said Prof. Dr. Nikolaus Franke, scientific director of the competition.
Since 1993, compamedia has been awarding the TOP 100 seal for special innovative strength and superior innovation success to medium-sized companies.
The scientific management has been in the hands of Prof. Dr. Nikolaus Franke since 2002. Franke is founder and director of the Institute for Entrepreneurship and Innovation at the Vienna University of Economics and Business. With 26 research awards and over 200 publications, he is one of the leading innovation researchers internationally. The mentor of TOP 100 is science journalist Ranga Yogeshwar. Project partners are the Fraunhofer Society for the Promotion of Applied Research and the BVMW association of small and medium-sized businesses.
More information can be found at www.top100.com.