Unified Messaging with SPEECH EXPERTS
The unified communications solution with CTI, fax and voicemail
The combination of ProCall Enterprise and the SPEXBOX communication solution provides an ideal opportunity for simple business process integration.
Fast and easy installation
You are a small, medium-sized company and are looking for a powerful solution that is convenient to handle in your team and also affordably priced?
Then the combination of ProCall Enterprise and SPEXBOX is the ideal choice. SPEXBOX is a Windows-based communications solution for company telephony and supports up to 1000 extensions and 60 lines depending on the expansion level. ProCall Enterprise can be easily installed and configured with SPEXBOX. If required, installation support is provided directly by the manufacturer. Companies applying this benefit from an integrated business process and workflow optimized for fax and voice mail messages. In addition, the cost of equipment maintenance and consumables (such as paper, ink, toner) can be reduced sustainably.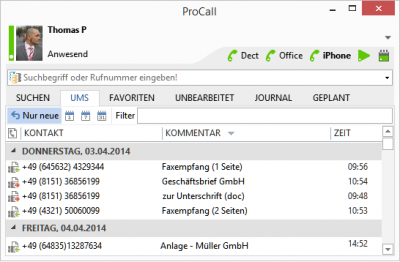 The cost-effective solution for the busy medium-sized business
The combination provides companies the opportunity to merge existing but still separate business processes in the company into one. In this way, the employee can initiate further actions easily and without much additional effort from one application. In this solution, the user benefits from a Unified Messaging System (UMS) tab in his ProCall Enterprise application. This continually gives him a current overview of all incoming faxes. By opening the detail view, he also receives a practical detail view in PDF format.
Are you interested in the solution?
The cooperation was presented (for the press release) to interested specialist dealers and system integrators for the first time in 2014 at Herweck Communication Day in Kirkel. The solution modules optimized for this are now available through the distributors Herweck, Komsa, Allnet, Michael Telecom and Alltron (Switzerland) for specialist dealers.
Learn more about SPEECH EXPERTS
Would you like to try this application?
Contact us! We will advise you on the necessary products.
You need assistance with the installation? No problem. With our new service packages, we support you optimally in both standardized as well as individual scenarios. Please simply contact our technical support.