WebRTC
Audio/video communication directly via the browser
The internet-based technologies that developed with WebRTC allow real-time communication directly via the browser. As a result, users can today benefit from uncomplicated audio/video communication without the installation of additional plug-ins or software. estos is working continuously to realize further options based on this technology.
Lost track? Our two-part WebRTC series concisely and compactly informs you about the current status quo when it comes to WebRTC. Read more now

WebRTC – Communication via the browser
WebRTC is understood as a standardization of techniques and protocols for communication and collaboration in real-time on the internet. Real-Time Communication – abbreviation: RTC. These technologies and protocols enable the direct peer-to-peer connection of two subscribers, for example, two web browsers. The exchange of audio/video and other files is made possible via this connection.
Conclusion: Speech and video telephony is made possible directly via the browser using WebRTC – a revolutionary innovation with a disruptive potential!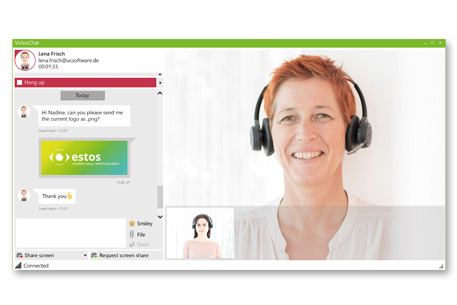 WebRTC – New possibilities of communication
Through open standards and easy implementation, WebRTC, which supports the development of cost-effective communication solutions, can make existing proprietary solutions (such as Skype) obsolete in the medium to long term. The quality of the defined codecs enables a high quality that is completely sufficient for normal business use. WebRTC-compatible browsers are now available on almost all end devices, which is why web applications based on WebRTC have the chance to reach many different end devices.

A potential that decision makers should not underestimate!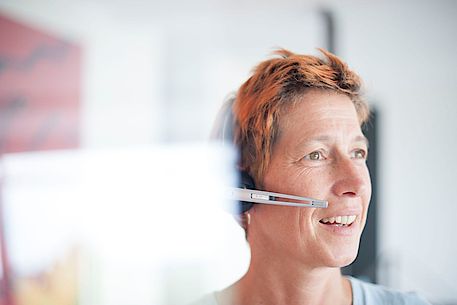 WebRTC – More than just hype
There are attractive options for companies that rely on WebRTC-based products. Employees working from home can stay in contact with their colleagues via audio/video chats and exchange projects and current topics directly. Video conferences in "small rooms" are also possible without a problem. This also provides an opportunity to make direct contact with potential customers and interested parties. If an interested person can speak to company employees using different channels via the website of a company, the potential customer can be simply and easily integrated into the business process.
Modern communication
The browser becomes the communication endpoint with WebRTC. Communication via a website with the aid of WebRTC can therefore herald a new kind of company communication. The solutions provide a personal and efficient opportunity for communication and collaboration for B2B and B2C relationships from which small companies and large groups benefit. Small and medium-sized businesses in particular can benefit immediately from the introduction of a new affordable generation of professional communication solutions in their support, sales and marketing departments.
Super tool WebRTC? That's why the new technology provides such application potentials
The customer focus is by now far more than a declaration of commitment. Customer-focused thinking has to be practiced by the entire company for a long time. This also brings about changes that have recently been supported by the digital transformation as a driving force. Digital media opens up completely new ways for customer interaction and loyalty with innovative touchpoint concepts and personalized information.
Business process integration with WebRTC
In the future, almost all IT applications can now be equipped with communication functions, especially those in which information and interfaces to prospective customers, clients and partners play a particularly important role. With WebRTC, unknown callers can now be consciously involved in the company's focus for the first time. Therefore, the process of new customer contact becomes part of the business process integration from the very beginning.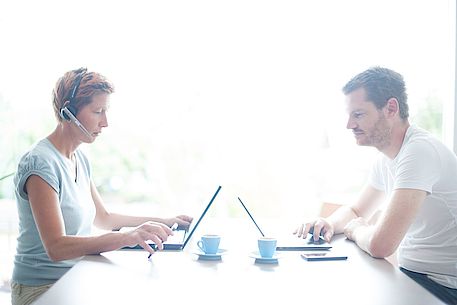 WebRTC from all perspectives: We are talking about it!
New channels in communication
Efficient communication – the factor in the modern working world that is crucial for success. Why we rely on WebRTC.
To the article (only available in German)
Royal conference calls – The WebRTC trend is increasing!
Why simple audio/video communication is becoming more important. An interview with David Welzmiller, estos Product Manager.
To the article (only available in German)
VoIP is dead! Long live WebRTC? – estos and its pioneering work
Christoph Lösch, Managing Director of estos, on the pioneer role of estos in the area of WebRTC and upcoming products.
To the article  (only available in German)