Success principle: business process integration
Increase productivity in your company with business process integration!
Communication Enabled Business Processes (CEBP for short) simplifies your business processes by integrating your communication solution with ERP/CRM or industry solutions. The greatest value of a UC application is created when it is integrated as well as possible into the business processes and procedures of a company. In doing so, tedious routine tasks, e.g. checking customer data during a telephone call, should be simplified for the user and thus errors minimized.
A field report with Seccom
Through business process integration, different CRM, ERP or other industry solutions used in the company can be connected to a common leading application. For example, when a call comes in, all relevant information about the customer is displayed directly and an employee can switch directly from the call window to another application. With just one click.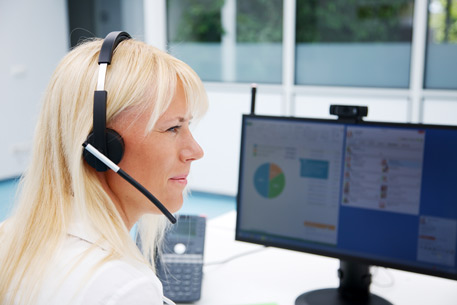 Integrated business processes increase productivity in the company
Usually, employees of a company have several systems in use, which they use, for example, for data maintenance or ordering. E-mail programs such as Outlook, instant messaging or CRM systems for a better understanding of customers usually complement these systems. Although a company offers its employees different ways to communicate, employees usually have to switch from one application to another first.
This costs time and the employee cannot concentrate exclusively on the conversation with his customer. The flow of work is interrupted. The conversation falters. In addition, data has to be manually updated or laboriously transferred from one system to another. This is an additional effort and it is not uncommon for information to be passed on incorrectly or incompletely.
Business process integration with ProCall Enterprise
If the communication solution is connected with other leading applications in the company, such as CRM, ERP or special industry programs, additional valuable added value is created. When calls are received, important information from other programs, such as outstanding invoices, upcoming appointments or customer classification, is available. An employee can switch directly from the call window to the appropriate application and, for example, directly initiate an order.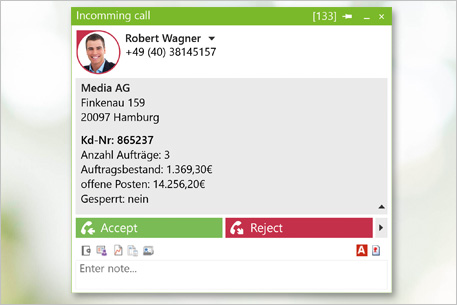 In 2014, the well-known manufacturer of shoe polishing machines decided to connect the company's existing business processes with a unified communications suite in order to bring its different applications together. During the implementation of the project, Heute GmbH was supported by the estos Expert Partner, Möller Telekommunikation, and trusted the many years of experience that estos has in the area of business process integration (CEBP).
Read the detailed reference report
Products used: ProCall Enterprise, ProCall for Mac, ProCall Mobile, MetaDirectory, ECSTA Series
Remove boundaries with business process integration
Rethinking and integrating established processes is undoubtedly a challenge. After all, they have generally grown over the years and employees are used to them, even if it sometimes means repeated program changes and repetitive work. Consideration in changing well-established process structures are often overlaid by numerous concerns. However, even though these processes primarily serve a purpose, the added value that arises from a technical and user's point of view due to business process integration should not be underestimated.
6 reasons why business process integration is so impressive
By initializing an additional process such as an order from an incoming call with just one click.
Improved customer support
You can greet your customers by name and also have all important information ready for a successful conversation.
Simple and intuitive operation promotes the willingness of employees to fully exploit the new features.
Save time and simplify recurring steps
Edit and process information and transfer these to other programs. Create more time for discussions with the customer.
Everything you need in a master application
No need anymore to constantly change applications. Easily open the most important programs from a leading application.
Simplify access to information. Share knowledge!
Employees can save information instantly so that other colleagues can also benefit from it when needed.
Customized individualization is crucial!
Business process integration can provide numerous added value for a company and increase daily productivity. For this to be possible, the individual customer scenario must be precisely analyzed so that suitable interfaces can be identified.
This requires a lot of precision in advance. Here we also offer our partners support. Since 2015, estos has added accompanying technical services to its portfolio, from basic packages for installations to special packages for system compatibility checks or multisite scenarios. For each customer scenario, appropriate services are available and the customer has the assurance of being able to optimally use all the features. This is especially important for successful business process integration from the customer's perspective.