ixi-Inspector
The monitoring tool for ixi-UMS Enterprise
Monitor ixi-UMS Enterprise services and directories
Anyone who manages a unified messaging system wants to guarantee its smooth functionality. In order to ensure high availability, it is important that the necessary measures can be taken immediately in the event of any exeptional situations. For this purpose, the ixi-Inspector monitoring tool is available for the ixi-UMS Enterprise unified messaging solution.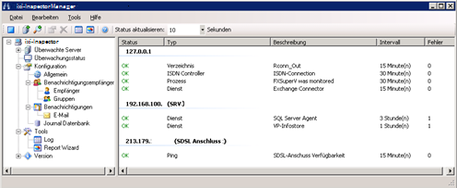 In general, the essential ixi-UMS Enterprise processes can be monitored and corresponding messages can be sent.
What can be monitored:
ixi-UMS services
ixi-UMS processes
ixi-UMS directories
ixi-UMS logs
Possible actions:
End process
Restart service
Restart computer
Play sound
Generate e-mail (sending SMS, fax, voice over ixi-UMS is also possible)
Generate net messages
Entry into the EventLog
Execute any programs
Queue congestion can be determined by means of directory and file monitoring. Monitoring takes place via defined rules. For example, the number and duration of jobs in a directory can be monitored. Furthermore, the ixi-Inspector can check whether the rendering and kernel processes of the unified messaging solution are working without problems. The ixi-Inspector performs predefined actions if any exceptional situations are detected in the ixi-UMS system. So, for example, you can specify that you want to back up the current status of the ixi-UMS system by copying the appropriate files. This facilitates any problem analysis afterwards. Individual services in the ixi-UMS system can be restarted automatically. The detailed notification can be sent to the administrator by e-mail, network message, SMS or the Windows EventLog.