ProCall One R2
Office productivity software for single users
ProCall One R2 is developed for single users, small offices and remote working. It supports professional groups such as self-employed, freelancers and sales managers in their communication. ProCall One R2 is designed with CTI functionalities and smartphone integration via Bluetooth.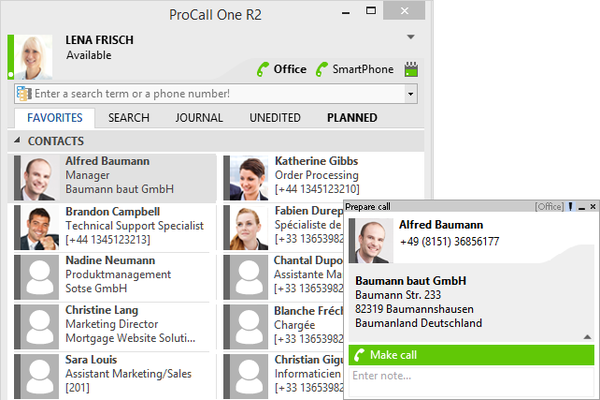 ProCall One R2 has been designed with functions such as Computer Telephony Integration (CTI), smartphone integration via Bluetooth, contact data searches and management, call log and call planning as well as the integration of web applications (e.g. Microsoft CRM) for Windows PCs.
ProCall One R2 is a single-workstation CTI solution (1st party) offering all key basic and comfort telephone functions such as dialing, pick-up, hang-up, enquiry, toggling and call forwarding.
When calls come in, all available contact details are compared with the incoming calling number and the matching contact information is displayed.
Bluetooth integration with ProCall One R2
ProCall One R2 provides users with the integration of smartphones and Bluetooth-capable mobile phones. This computer smartphone integration provides a level of user convenience comparable to a phone paired via Bluetooth in a car. It allows the use of all CTI functions and the control of the smartphone.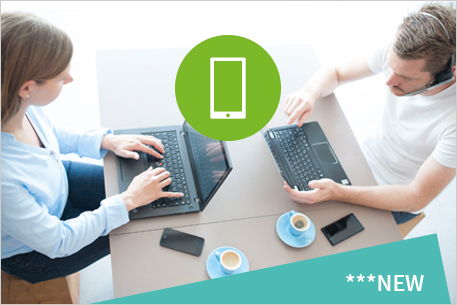 Features of ProCall One R2





Other new features in ProCall One R2








Technical requirements
TC system or telephone with MS TAPI-compatible driver (or CSTA/uaCSTA*)
Smartphone or typical mobile phone with Bluetooth
PC workstation – hardware
PC with 2 GHz
1 GB of memory
1 GB free hard disk space
Bluetooth interface (optional)
PC client – software
Microsoft Windows® 8.1 (x86/x64)
Microsoft Windows® 10 (x86/x64)
Optional environment
MetaDirectory from version 3.0
Microsoft Outlook® 2007/2010/2013/2016
(no Click2Run installation)
Supports Outlook 32-bit and 64-bit variants
Office 365/Exchange WebService (EWS)
IBM Notes 9
Telephone book integration (CD/DVD/network installation)
Supported smartphones
Apple iPhone®
Samsung Galaxy®
Nokia Lumia®
For the integration of smart phones/mobile phones, an already coupled (paired) device is required. The device must support the Bluetooth Hands-Free Profile (HFP) and Phone Book Access Profile (PBAP). Not every device supports simultaneous Bluetooth pairing with a headset.
Information
Technical documentation
Tools
Topology
You want to include contact databases
for reverse searches? The MetaDirectory
merges various contact data for ProCall
Enterprise. It standardizes names,
addresses, call numbers and customer-
specific information and enables effective
searches with customizable results.

More information
Telephone directory integration
As a result of the additional connection of external
telephone directory providers such 'Das Telefonbuch',
Herold, twixTel, Swisscom Directories or the klickTel server,
the contact data of these network installations or
WebServices can also be directly accessed.


Collaborations and certifications