ProCall Business
Compact communication for companies with up to 50 users
The themes of "new work" and the "hybrid working world" will determine communication and collaboration for companies in the future, both internally and externally. This poses new challenges, especially for companies that do not have an extensive ICT infrastructure. With selected UC functions and classic CTI, ProCall Business offers users in companies with up to 50 users, flexibility for daily collaboration – whether in the office, remote working or on the road. ProCall Business combines important communication channels in a single application and can be put into operation with little effort.
Compact communication
With ProCall Business, we bundle the most important features from the proven ProCall Enterprise Suite. Classic CTI and selected unified communications functions support small businesses in communication and collaboration. The all-in-one ProCall Business package enables easy start-up and is designed for up to 50 workstations. Flexible licensing is tailored to the number of users required and can be extended at any time.
The key advantages of ProCall Business at a glance
Intuitive and easy control of the phone via PC, for example with hotkey dialing.
Uncomplicated communication via PC with the help of the softphone – secure and independent of work location.
Recognize availability and accessibility of colleagues at a glance, thanks to presence management.

Key UC features such as Audio/VideoChat and TextChat.
Collaborate by sharing images, files, and screen sharing.

Microsoft 365 integration (formerly Office 365) enables the connection of contact and calendar data directly from the Microsoft 365 Cloud.
Search for contact data in connected data sources such as Active Directory or phone book.
Already included is the connection of popular telephone systems for CTI and softphone.
Flexible licensing based on the number of users required – can be expanded at any time.
Connection of the app via the hybrid cloud platform UCConnect.
Test ProCall Business now
The compact communication package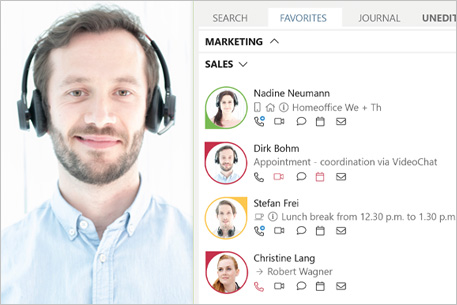 Everything on board for small businesses: ProCall Business can be easily installed with all components. Already included is the connection of common PBXs via TAPI or SIP-based for office or remote working. The possible integration of up to two local or cloud-based databases ensures the integration of contacts. Companies can license the required number of users flexibly and in line with their needs.
You can find current technical information in our support portal
Microsoft 365 Integration (formerly Office 365)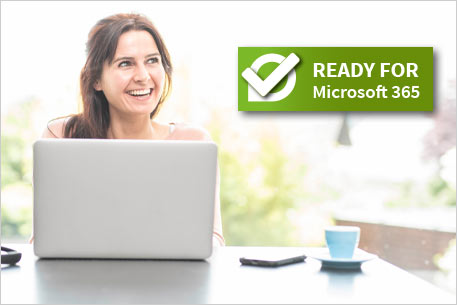 Whether in the office, on the move, at home, locally, from the cloud, via the client or the browser – ProCall Business adapts to Microsoft 365. Users benefit from the integration of the all-in-one package: All advantages such as integration with the calendar, presence information in e-mails, dialing directly from Microsoft Outlook or journaling are available – regardless of the location and the interface used. ProCall Business thus ideally supports companies that place value on flexibility.
Use of the ProCall Mobile Apps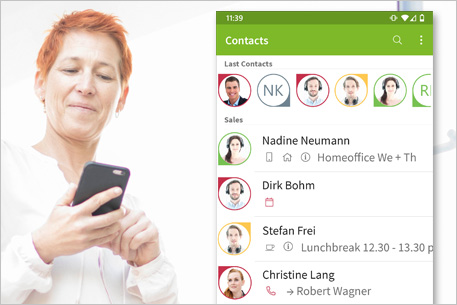 ProCall Mobile is a native app for iOS and Android with features like video chat and softphone (SIP). These services make it easier to get the ProCall app up and running and help businesses communicate and collaborate optimally on the move:
Mobile working
Working from home
Mobile audio/video communication
The most important functions of ProCall Business







Sales channels
ProCall Business can be obtained exclusively via distribution.
Find a specialist dealer near you: Our specialized dealers
As a reseller, our broad network of distribution partners is at your disposal: Our distribution partners
Or directly with us!
Your contact person at estos