Contact Kit for Microsoft Skype for Business/Lync
Use information. Optimize processes
Benefit from the integration of your valuable contact data from ERP/CRM systems, for example, directly in Microsoft Skype for Business/Lync. Optimize your processes and improve your customer and employee satisfaction. The Contact Kit – your path to the optimum communication process.
Business process integration instead of just contact integration
Unlike other vendors, we not only integrate the contact data in Microsoft Skype for Business/Lync, but with Contact Kit we also offer the basis for a professional integration of Skype for Business/Lync in the business processes of the company using customizable toast and call window extensions.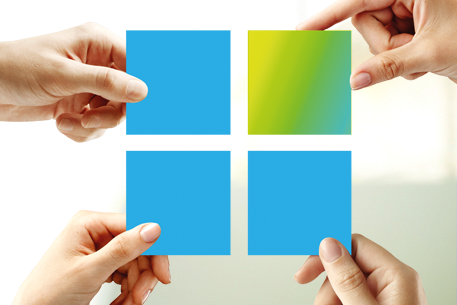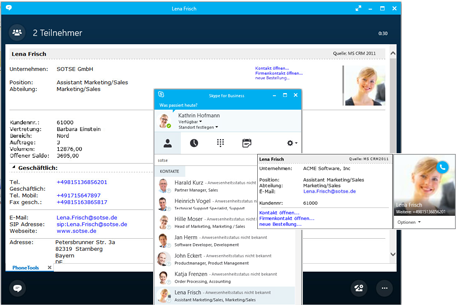 Make your Microsoft Skype for Business/Lync suitable for business customers
The integration of your important contact and customer data saves time and makes recurring tasks more efficient. "Identifying" the caller before answering the call improves your customer service and increases your customers satisfaction.
Interfaces (technical)
ODBC (Access, SQL Server, MySQL, ...)
LDAP (OpenLDAP, NDS, Public Directories)
Active Directory/Global Cataloge

Public Exchange Directories (MAPI)

Exchange Webservice (EWS)
IBM Notes
Tobit David
DATEV SDD
Microsoft Dynamics CRM 2011 & 2013 Webservice
Salesforce SOAP Webservice (beta)
Text/CSV File
Applications
Microsoft Dynamics CRM, Navision, AX
Microsoft Dynamics CRM Online
Microsoft Exchange/Office365
SAP CRM, R3, Business One
Salesforce CRM (beta)
Sugar CRM
Cobra CRM PRO/PLUS, Adress PLUS
DATEV pro
Sage ACT!, CRM
Schleupen.CS
and many more...
Telephone directory integration
CD/DVD/Network Installation/Cloud Services
Thanks to the additional connection of external telephone directory providers such as Das Telefonbuch Deutschland, Herold, TwixTel, Swisscom Directories or klickTel Server, the contact details of these network installations or web services can also be directly accessed.
More information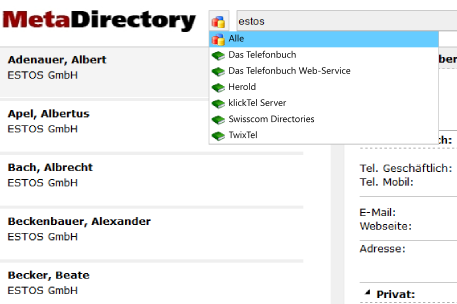 Technical requirements
Technically, estos Contact Kit consists of three components:
Search Interceptor on the Skype for Business/Lync front end server
PhoneTools for Skype for Business/Lync as a client component
MetaDirectory Skype for Business/Lync Edition
Do you have any questions regarding the connection of Contact Kit to Microsoft Skype for Business/Lync?
Downloads
Supported Microsoft Lync versions
Lync Server & Client 2010
Lync Server & Client 2013
Skype for Business Server & Skype for Business Client 2015/2016
Test our software now for 45 days free of charge and without registration
The Contact Kit extends Microsoft Skype for Business/Lync with your customer data. Continue to use the Contact Kit after the trial period by ordering a license key from your technology partner or our online shop and then activate the software.
The CallControlGateway connects telephone systems with Microsoft Lync/OCS. In this way, you have the opportunity to expand Microsoft Lync with conventional telephony functions. Telephone calls can be made and received directly from your Lync client.
ECSTA is a software module which translates protocols specific to telephone systems like CSTA for the Microsoft Windows world and processes them for a controller via applications in the network.