The new estos products
Available from 25th June 2020
Clearer, easier and more convenient: With the new major versions of ProCall Enterprise, MetaDirectory Enterprise, the ECSTA series, ixi-UMS Enterprise and LiveChat as well as ProCall Analytics (beta), we have further optimized our software for unified communications, unified messaging and communication directly via the websites for you – our partners and end-user companies.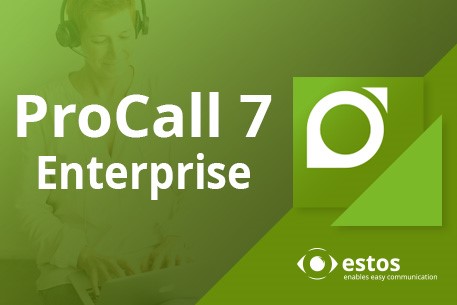 For Users:
More clarity for presence management: Clearly defined areas for presence, information and action illustrate a person's availability:
The presence area provides information about availability based on the color, for example available, absent or busy.
The information area shows the name and availability of a person such as mobile, home office or office.
The action area provides the contact options such as call, chat or video. Communication is set up intuitively and simply by a click of the mouse.
Convenient exchange of information: Users can now share content such as files, photos or videos via the chat. If necessary, the maximum size of the files can be specified and file formats can be excluded.
Greater accessibility on the move: Smartphone users can set up presence profiles like home office or office. In this way, colleagues are mutually informed about current availability.
For administrators:
Simplified connection of CRM, ERP and industry solutions: The main and context menu and the call windows in ProCall Client for Windows can be extended and adapted without programming. This is how users get from the call window to the respective application with one click. The configuration is carried out individually at each workstation or administratively on the UCServer via graphical user interfaces.
Convenient configuration: Favorite contacts, monitor content, speed dials and actions can be set up, distributed and rolled out via UCServer groups or UCServer profiles. Complex configuration via XML files is no longer necessary.
MetaDirectory 5 Enterprise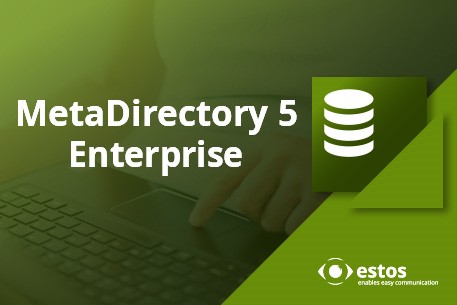 Improved "Search-Experience": The new full-text search is based on modern search engines. Users can find contacts even faster, even with large databases.
Access to all data on the move: Users can use the new responsive web portal not only with a laptop or at work, but also with smartphones and tablets.
More clarity: With Contact Merge, results from different data sources are clearly summarized in one contact in the web portal.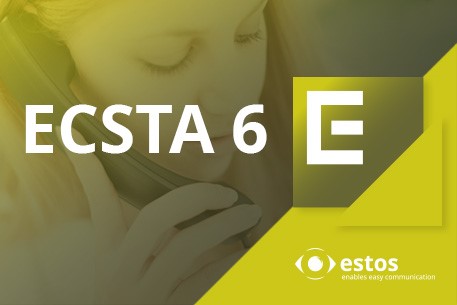 Simplified configuration: ECSTA identifies SIP lines and filters them out. The administrator can immediately see which lines are SIP softphone lines for ProCall Enterprise and therefore do not need to be controlled via ECSTA. This facilitates configuration and avoids errors. Available for the following systems:
Alcatel OmniPCX Office and OmniPCX Enterprise
Avaya IP Office
Hipath 2000, 3000 und 5000
Mitel MiVoice MX-ONE, Mitel MiVoice 400 und Mitel 100
Telekom Octopus
Unify OpenScape Business und OpenScape 4000
Teles C5
ECSTA for SIP Phones: Polycom devices are now supported.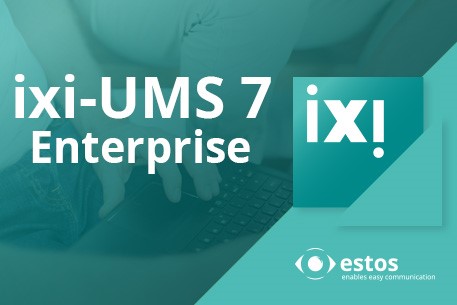 More clarity: The new user portal provides users with the web journal, user settings and the web-based voice mailbox configuration under one interface. One website call is sufficient to access the individual user portal.
Convenience features for answering machines: With the voice mailbox users can now enter announcement messages in text form: Via TTS (Text to Speech) these are translated into speech. Additionally, announcement messages can be stored specifically for internal callers. It is now also possible to record announcement messages via a microphone/headset connected to the PC.
Simple addressing and more security: There is now an address book for the SMTP client. This allows the user to easily select the e-mail recipient address. If required, the latest TLS encryption protocol is supported.
Improvements for corporations: The administrator can now set up multi-site scenarios for large companies with distributed locations even more easily.
Integrated with UCC: Via a single custom tab in the ProCall Client users can access their individual user portal page for ixi-UMS.
ixi-UMS 7 Business (available since 1.10.2020)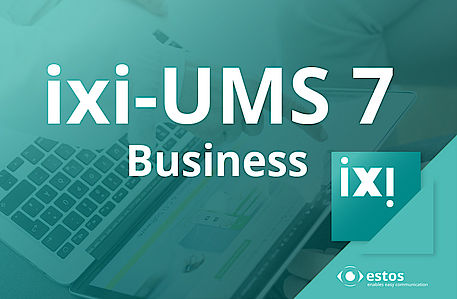 For users:
One click, everything in view: The new ixi-UMS business portal includes the web journal, user settings and the web-based voice mailbox configuration. A web page call or a click on the custom tab in the ProCall client is sufficient to access the portal.
Read or unread: Users can mark their read messages as unread in the ixi-UMS web journal and vice versa to get a better overview.
More targeted automatic printing: Incoming faxes can be forwarded to up to five network printers based on rules. This allows a company to channel incoming messages individually.
Easy addressing: There is now an address book for the SMTP client, where the user selects the recipient's e-mail address.
SMS texts in dispatch reports: If the user sends an SMS, the text that was actually sent is now included in the dispatch report. The reason: If the user writes a message that is too long, it will be cut off.
For administrators:
Revised design: The admin web interface now makes the intuitive setup even clearer and more user-friendly. This shortens installation times.
Drop down menu for the cover page: The administrator selects the folder name in which the fax cover sheet is stored directly in the user management.
Quick function tests: The administrator can have a fax, voice or SMS message generated directly from the queue. The transmission result including further information – for example about possible transmission problems – is displayed in the ixi-UMS kernel journal.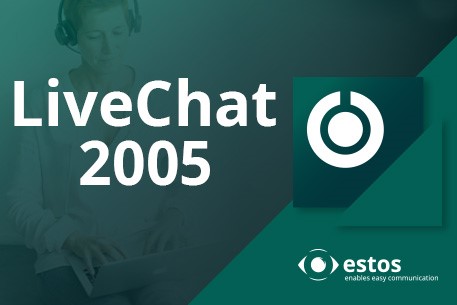 Rapid exchange of information: Website visitors and consultants share content such as files, photos or videos via the chat, similar to ProCall Enterprise. The administrator can set the maximum file size and exclude file formats if necessary.
Reply and Forward: Chat participants can reply to certain messages from the history or forward messages to other users.
Easy to find: Consultants can search for people, groups or content in the different chat rooms – team, private or public.
Easier handling:
The completely revised user interface improves handling for employees in companies that advise website visitors. For example, the display and backgrounds can be set up individually.
ProCall Analytics 3 (Beta)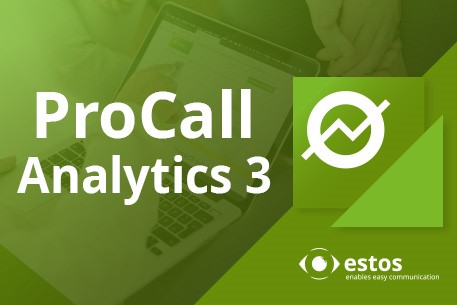 Advanced evaluation: All communication data of softphone conversations are also displayed in clearly arranged dashboards.
Simplified licensing: In the future this will be done via server.

Learn more about ProCall Analytics