ixi-UMS Enterprise
Modular unified messaging software
ixi-UMS Enterprise is designed as a modular unified messaging software for larger companies or customer projects with special requirements and integrates the fax, voice and SMS functions in system environments such as Microsoft Exchange, HCL Domino or SAP. ixi-UMS Enterprise also offers mobile access to all messages.
The latest news: Service Release 1 for ixi-UMS 7 Enterprise
With Service Release 1 for ixi-UMS 7 Enterprise, we offer further benefits for users and companies with distributed locations, and have once again increased security and simplified administration. An overview.
Even more user-friendly
Users can hide journal entries and view them in a separate table
Single Sign On with Active Directory via NTLM and Kerberos is supported in the ixi-UMS user portal
Optimized for distributed locations
Set up locations: They are enabled or disabled in the Management Console
SMS via VPN: For wholesale access, the administrator can enter a fixed sender number
Optimized routing: Outgoing faxes, short messages or voice messages can be distributed according to job type
Improved security
Apache and OpenSSL are included in Service Release 1 in the latest version
The ixi user management interface supports access to the LDAP database via LDAPS
Simplified administration

ixi-UMS services can be started and stopped directly in the ixi-Framwork SnapIn
The administrator is automatically notified if an incoming fax message cannot be created
The client tools support the transfer to Microsoft Outlook via "Outlook Object Model"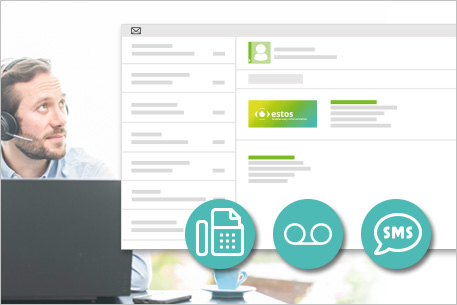 User portal: The new portal server provides a web journal, user settings and a web-based voice mailbox configuration under one interface. A simple click on a website is sufficient to access the individual user portal.
Voice mailbox: Announcement texts can now also be entered in text form. Via TTS "Text to Speech" the texts are translated into speech. An additional announcement text can be stored specifically for internal callers. If announcement texts are "recorded" as speech, this is now also possible via a microphone/headset connected to the PC.
Client tools: An address book is now available for the SMTP client integrated in the local client tools. All messages can be TLS encrypted.
Kernel: The setup for multi-site scenarios for large enterprises with distributed locations has been simplified.
ProCall Enterprise: A single custom tab in the ProCall client takes the user to their individual ixi-UMS user portal page.

ixi-UMS Enterprise features









Modular design. Flexible use. Ideal for large companies.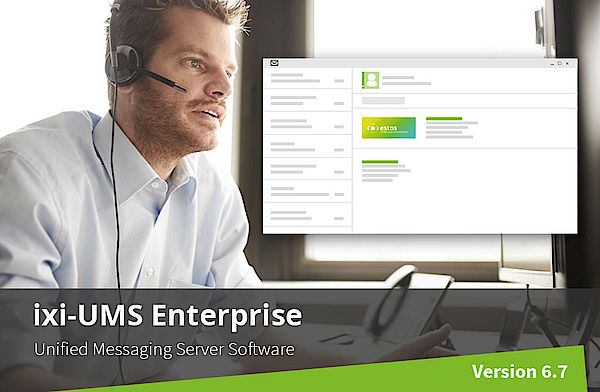 In addition to the existing e-mail function, the features fax, voice and SMS are setup and managed via a single integrated server-based platform.
Mobile access is also managed on this platform – the messages are retrieved directly here and are therefore always up to date.
With unified messaging, the PC workstation becomes a universal terminal device for the user.
This allows users to manage all types of messages within one single interface – directly from their workstation or from PC, tablet or mobile device. Sending and receiving fax, voice and short messages takes place in your usual messaging client, such as Microsoft Outlook or HCL Notes.
An Add-On Unified Messaging solution such as ixi-UMS Enterprise integrates the additional functions via connectors/interfaces into proven messaging system architectures such as Microsoft Exchange Server or HCL Domino. This keeps the installation and training effort low.


Integration in ProCall Enterprise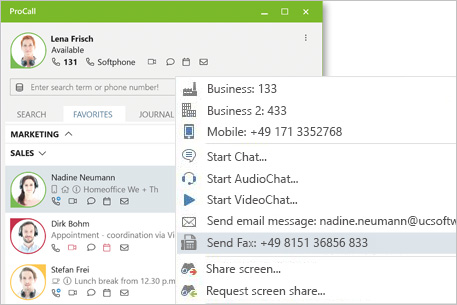 The ixi-UMS Business unified messaging server integrates with the ProCall Enterprise solution: Users can send faxes directly from their client or monitor. The technical handling is executed by the unified messaging server ixi-UMS Business.
The estos ProCall Enterprise user can either select a contact in his client or monitor. If he clicks the right mouse button, the same actions are available to him. If he decides to choose "send fax", an e-mail window opens with the fax addressing: number@ixifax.com.
Now the user can write text, attach files or even both. The user receives the send report in his inbox.


The user portal of ixi-UMS Enterprise combines the configuration for the voice mailbox, web journal and user settings under one interface. The user gets an overview of his authorizations and his incoming and outgoing messages. Users can also manage their profile settings and announcements here. With just one click, for example directly from Pro Call 7 Enterprise, users can access their user portal.
Technical requirements
ISDN/TDM

Fax over IP


Signaling: SIP, H.323
Voice: G.711, G.729, Speex, GSM 6.10
Fax: T.38, SoftFax

VoIP PBX/SIP Provider - Connection via VoIP Connect "XCAPI" (see here)
Connection instructions VoIP Connect "XCAPI" to PBXs and SIP providers (see here)
Systems with internal S0 bus – connection via ISDN card or ISDN gateway with CAPI support
PC-Server – Software
Microsoft Windows® Server 2022 (from Rel. 7)
Microsoft Windows® Server 2019 (from Rel. 6.70)
Microsoft Windows® Server 2016
Microsoft Windows® 11 (from Rel. 7)
Microsoft Windows® 10
Connectors/Interfaces/Integration
Microsoft Exchange Server (2019 / 2016)
HCL Notes/Domino Release 8.5 and >
all other SMTP-based messaging systems
SAP-Systems (All in One, Business Suite, R/3, ERP Version 5 and 6, S/4HANA)
SMTP Mailer (e.g. Novell GroupWise, Open Xchange, u.a.)