ProCall Enterprise
Communicate and collaborate better.
ProCall Enterprise is a unified communications software suite for companies. It improves daily communication with employees with functions such as CTI, presence management, instant messaging, CSPI and audio/video. Using federation, it enables networking with your contacts – interested clients, customers and business partners.
Networking with federation
Good relations and high availability are the basis for successful business. Both can also be mapped with ProCall Enterprise on the internet. The software supports all the important standards and secure protocols as regards communication for the network. As a result, you always retain sovereign control of all functions and channels.
The technical basis is the concept of federation. Find out more on the subject of federation.
Nice to see you!
Did you have a good conversation at the trade show? Time for a follow-up? Avoid long travel times for a personal appointment. Meet your colleagues, business partners or suppliers simply in a video chat. Regardless of where you are and what terminal device you use – without barriers for your business partner. The ProCall video chat functions based on WebRTC make it possible.
Find out more about the ProCall Video Chat and why WebRTC will revolutionize the way we communicate and collaborate.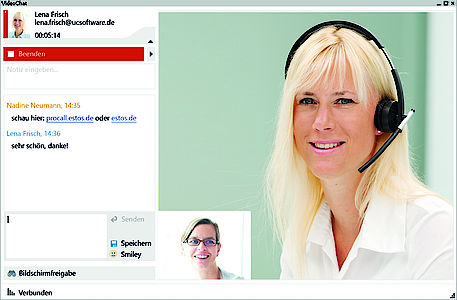 Functions of ProCall Enterprise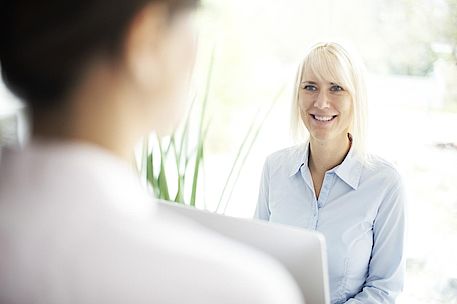 ProCall for Mac
With the native ProCall for Mac OS X, small and medium-sized businesses can benefit from the proven performance features of the unified communications bestseller ProCall Enterprise and improve their collaboration. This version includes functions such as hotkey dial, reverse search and a call journal, instant messaging (chat) and presence management for Mac workstations in the company and beyond the company boundaries using federation.
ProCall Mobile
ProCall Mobile is a native smartphone and tablet app for iPhone/iPad and Android with selected Unified Communications (UC) and CTI functions.
Once logged in, you have access to the current call list on the desk phone (journal). Call planning is also integrated. You can control your mobile extension (CTI). With Remote Office, you can use the app to dial via One Number (the mobile phone number is hidden, the company number is displayed) for selected TC systems and service offers. The integrated search allows a live search of all contact databases according to contact details.
CTI with smartphones and mobile phones
First Party Call Control allows smartphones, such as iPhones or Android devices, as well as classic mobile phones to be integrated for call control via simple Bluetooth pairing in ProCall.
The integration means control of the telephone and the display of calls, contacts and journals. Operate your cell phone without time-consuming tapping on the display. MDM and BYOD is now no longer a problem.
Integrate telephone systems
To be able to use the full potential of ProCall Enterprise, you need a telephone system (on-site or from the cloud) that has a CTI interface which allows you to control the connected phones. The standard ideally suited for this is called CSTA. This still needs to be prepared for the Microsoft Windows world. To do this, you either get a TAPI Service Provider (TSP) from the telephone system manufacturer or can choose a professional TAPI driver-compatible middleware from estos from the ECSTA series for common systems.
Supported operating systems
The ProCall Enterprise Server has been specifically developed for Microsoft Windows Server operating systems.
ProCall client software is available for Microsoft Windows and Apple Mac OS X (pooled functions). For this purpose, native apps with special functions for the iPhone and iPad from Apple as well as Android smartphones are available from the respective app stores. VMware and Citrix support complete the offer.
Technical requirements
For ProCall Enterprise to run smoothly, a number of conditions relating to the hardware and software used must be fulfilled. The software has a few mandatory and a wide range of optional interfaces. These are almost always based on open standards. This should make the setup and use of the software for maximum interoperability and simultaneous investment protection as easy as possible for you.
We work closely together with leading software and hardware vendors to respond quickly if support is required. Take advantage of the free trial options and expertise of our partners to ensure that our software also works as expected in your environment.
Here you can get an overview:
Try our software now for 45 days for free and without registration
Evaluate communication features such as CTI, smartphone and cell phone integration, Instant Messaging, audio/video or collaboration features such as Federation or desktop sharing. See for yourself how easy it is to integrate ProCall in groupware systems or business applications.
For ProCall Enterprise you need a Windows TAPI driver for connecting your telephone system. The professional Windows TAPI middleware from the ECSTA series enables the integration of common CSTA-compliant telephone systems or telephones. See which telephone systems ECSTA middleware is available for.
You want to include contact databases for reverse searches? The MetaDirectory merges various contact data for ProCall Enterprise. It standardizes names, addresses, call numbers and customer-specific information and enables effective searches with customizable results.
You want to evaluate and optimize your communication behavior? ProCall Analytics graphically represents the communication data of ProCall Enterprise and allows the analysis of potentials and bottlenecks in communication-intensive processes. Take advantage of the information gained from it as the basis for decisions.
Collaborations and certifications